Lets Go 2 - OXFORD - Britains oldest University!
Sheffield Coach Station, Sheffield
Sunday, 24 Feb 2019
7:00am to 9:00pm
---
Tickets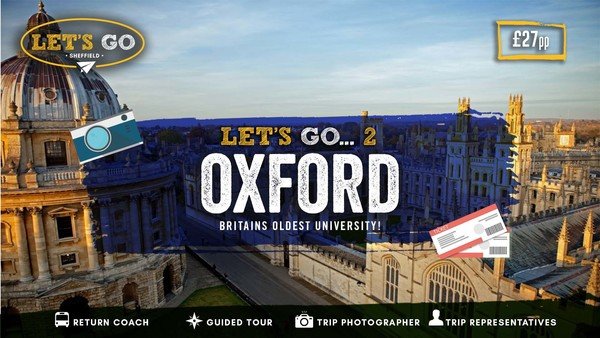 ---
🔹OXFORD 🔹
'The city of dreaming spires'… or Oxford, as most of us know it, is one of the landmark cities that people associate with being English. It is renowned for its education facilities and boasts the oldest university in the English-speaking world. The university has a long list of world-famous students, from British politicians such as Tony Blair and David Cameron, to movie stars such as Harry Potter's Emma Watson and even some of the greatest minds of all time, such as Albert Einstein and Steven Hawking. While the history lives on throughout the city, it has become so much more than a place to read books and learn equations. Oxford now has a much wider range of things to do, from museums, to cafes, shops and bars- all of which can be visited while strolling down the city's beautiful cobbled streets.
🔹 TRIP INFO 🔹
DESTINATION: Oxford 📍
WHEN: Sunday 24.02.2019, meeting at 7.45 am (bus leaves at 8.00 am) 📅
MEETING POINT: Sheffield Interchange, bay E4, Archway Centre, Pond Square, Sheffield S1 2BD
🔹WHO CAN JOIN?🔹
All students from University of Sheffield & Hallam. Language students, Au pair, exchange students, friends, housemates & anybody you want to bring along with you!
♦️PRICE♦️
General Admission: £27.00
Discounted entry - Please contact your society president/Building manager or message your local rep for money off & FREE trips!
🔹WHATS INCLUDED IN THE PRICE!🔹
- Free itinerary (Details of times and locations for the day)
- Transportation by private executive coach! (Movies included)
- Guided private tour by professional tour guides telling you the most important info!
- Lets Go representative throughout the trip
- Free time in the afternoon to explore the city on your own or with friends!
- Skilled trip photographer
- All taxes included!
🔹THE TIMETABLE 🔹
7.45 am: Meeting at Sheffield Interchange
8.00 am: Leaving Sheffield
After: Oxford guided tour by professional tour guides
After: Free time in Oxford
5.30 pm: Leaving Oxford
9pm: Expected arrival in Sheffield!
💠 LETS GO SHEFFIELD 💠
Lets Go Sheffield is your #1 provider of international events, activities and trips in Sheffield. We support thousands of Internationals right here in the heart of Sheffield by putting on weekly events that are packed with entertainment!
🔶WEEKDAYS - Check our Facebook page for events, activities, meet ups, MORE FREE STUFF & Offers/discounts/money-off promotions!!
🔶THURSDAYS - International Hang out - Join us weekly for quizzes, FREE 🍕, Games, Ice breakers and much much more. We won't charge you a penny.. EVER! 😁
🔶FRIDAYS - Bar crawls & International parties! We love to bring the worldwide culture to Sheffield. Join us at our Bi Weekly event in House of Hugo for 196 International parties or come along to one of our highly popular themed bar crawls that leave you wanting more!
🔶SATURDAYS & SUNDAYS - Grab the essentials, as we're going on a journey! Every weekend we take you to a different destination across the UK. Bringing you the best experiences joined by like minded individuals for you to get the most out of your time abroad! We'll arrange everything, so don't worry about a thing! Just DON'T forget your 📷
'Life is either a daring adventure or nothing at all' - Helen Keller
'You only live once, but if you do it right, once is enough!' - Mae West
🚌🗺️⛰️🏛️📸
📷 Connect 📷
◆ Facebook: https://www.facebook.com/Lets-Go-Sheffield-516760875410135/
◆ Instagram: @letsgosheffield
💷 Jobs 💷
Get paid to travel!
Get paid to party!
Join our EPIC staff parties!
Exclusive discounts for your friends!
Be the life of the party!
Message your local rep for more details:
Toby (WhatsApp): 07411078013
Facebook: https://www.facebook.com/toby.henriquespresson.9
📲CONTACT 📲
Lets Go Sheffield
📧Info@letsgo-uk.com
📞 07411078013
---
Venue
Sheffield Coach Station , Archway Centre, Pond Square , Sheffield