Lets Go Sheffield trip to Bath & Stonehenge- England's most treasured destination!
Sheffield Coach Station, Sheffield
Sunday, 3 Mar 2019
8:00am to 9:00pm
---
Tickets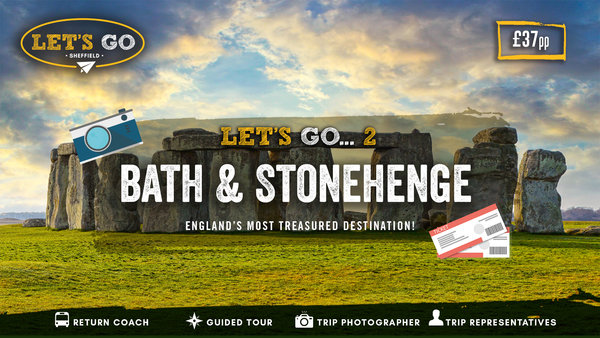 ---
🔹BATH & STONEHENGE 🔹
Heading down into the beautiful county of Somerset, we find the ancient city of Bath, named aptly for to the Romans who used the city as a spa as far back as 60 AD, where they built communal baths and a temple. Even today, the city claims the only natural hot spring in Britain that you can bathe in. The city is a major hot-spot for tourism, attracting 3.8 million visitors per year, who visit the city's many museums, which range from art to astronomy.
Further south, we find the huge, prehistoric landmark that is Stonehenge. The stones stand 4 meters high and are believed to date back to between 2000 BC and 3000 BC. The site has been listed as a world heritage site since 1986 and causes archaeologists to still ponder the reason for its creation, how the stones were erected, and most shockingly, how the stones from the inner ring were apparently moved there from some 200 miles away - all from a civilisation that had yet to invent the wheel! Stories of creation range from ancient tribes, to druids and even a wizard, for varying reasons such as an astronomical calendar, an ancient burial ground or even a place of healing!
🔹 TRIP INFO 🔹
DESTINATION: Bath & Stonehenge📍
WHEN: Sunday 03.03.2019, meeting at 7.45 am (bus leaves at 8.00 am) 📅
MEETING POINT: Sheffield Coach Station, Bay E4, Archway Centre, Pond Square, Sheffield S1 2BD
🔹WHO CAN JOIN?🔹
All students from University of Sheffield & Hallam. Language students, Au pair, exchange students, friends, housemates & anybody you want to bring along with you!
♦️PRICE♦️
General Admission: £37.00
Discounted entry - Please contact your society president/Building manager or message your local rep for money off & FREE trips!
🔹WHATS INCLUDED IN THE PRICE!🔹
- Free itinerary (Details of times and locations for the day)
- Transportation by private executive coach! (Movies included)
- Guided private tour by professional tour guides telling you the most important info!
- Lets Go representative throughout the trip
- Free time in the afternoon to explore the city on your own or with friends!
- Skilled trip photographer
- All taxes included!
🔹THE TIMETABLE 🔹
7.45 am: Meeting in Sheffield
8.00 am: Leaving Sheffield
11.30 am: expected arrival in Bath & free time in the city of Bath
2.45 pm: leaving Bath
3.30 pm: expected arrival in Stonehenge
5.30 pm: leaving Stonehenge
10.00 pm: expected arrival in Sheffield
🔹BOOKING 🔹
This popular trip will sell out fast!
💠 LETS GO SHEFFIELD 💠
Lets Go Sheffield is your #1 provider of international events, activities and trips in Sheffield. We support thousands of Internationals right here in the heart of Sheffield by putting on weekly events that are packed with entertainment!
🔶WEEKDAYS - Check our Facebook page for events, activities, meet ups, MORE FREE STUFF & Offers/discounts/money-off promotions!!
🔶THURSDAYS - International Hang out - Join us weekly for quizzes, FREE 🍕, Games, Ice breakers and much much more. We won't charge you a penny.. EVER! 😁
🔶FRIDAYS - Bar crawls & International parties! We love to bring the worldwide culture to Sheffield. Join us at our Bi Weekly event in House of Hugo for 196 International parties or come along to one of our highly popular themed bar crawls that leave you wanting more!
🔶SATURDAYS & SUNDAYS - Grab the essentials, we're going on a journey! Every weekend we take you to a different destination across the UK. Bringing you the best experiences joined by like minded individuals for you to get the most out of your time abroad! Well arrange everything, so don't worry about a thing! Just DON'T forget your 📷
'Life is either a daring adventure or nothing at all' - Helen Keller
'You only live once, but if you do it right, once is enough!' - Mae West
🚌🗺️⛰️🏛️📸
📷 Connect 📷
◆ Facebook: https://www.facebook.com/Lets-Go-Sheffield-516760875410135/
◆ Instagram: @letsgosheffield
💷 Jobs 💷
Get paid to travel!
Get paid to party!
Join our EPIC staff parties!
Exclusive discounts for your friends!
Be the life of the party!
Message your local rep for more details:
Toby (WhatsApp): 07411078013
Facebook: https://www.facebook.com/toby.henriquespresson.9
📲CONTACT 📲
Lets Go Sheffield
📧Info@letsgo-uk.com
📞 07411078013
---
Venue
Sheffield Coach Station , Archway Centre, Pond Square , Sheffield