Lets Go Sheffield trip 2 Snowdonia - CONQUER THE WELSH MOUNTAINS!
Sheffield Coach Station, Sheffield
Sunday, 17 Mar 2019
7:00am to 9:00pm
---
Tickets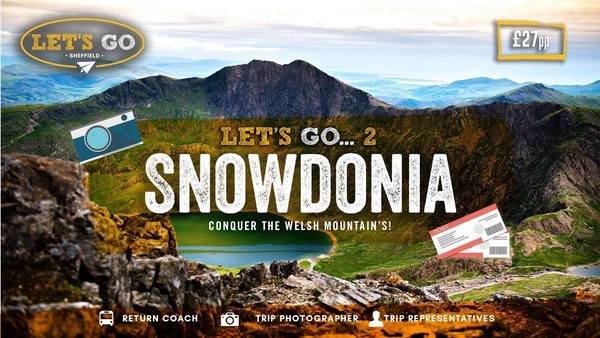 ---
Lets Go Sheffield trip 2 Snowdonia - CONQUER THE WELSH MOUNTAINS!
🔹CONWAY CASTLE🔹
Let's head over to Wales, shall we? Before we start our climbing later on, we'll be making time to explore the huge fortification that is Conway Castle. This massive defence system was built in the late 1300's and has hosted kings, withstood a siege, and now stands ready to be explored to this present day. Visitors are encouraged to climb to the top of the 70ft towers that stand at the edge of the castle. Once at the top, you can appreciate what it would be like to defend such a place, looking over the inner and outer wards, the small, overlooking windows and the old site of the drawbridge. Once you've finished pretending to be a 13th century knight, you'll still have time to explore the nearby quaint little town of Conway to stock up on snacks for the journey ahead.
🔹SNOWDONIA 🔹
It's now time to climb the highest mountain in Wales! While you won't need your mountain guide, your camping supplies, or even your friend that's really good at finding their way home, Snowdon will provide more than enough of a challenge to all but the most seasoned fitness fanatics. Standing at 1,085 meters tall, mount Snowdon provides a day of tough climbing for you and your friends to tackle, and features some breath-taking views on the way up. Once you get to the top (If you can make it that far), on a clear day, you can see all parts of the British Isles- Back across to England, across the sea to Ireland and Northern Ireland, and even as far up as Scotland (Fingers crossed for good weather!)
🔹 TRIP INFO 🔹
DESTINATION: Snowdonia📍
WHEN: Sunday 17.03.2019, meeting at 7.15am (bus leaves at 7.30am)📅
MEETING POINT: Sheffield Coach Station, Bay E4
🔹WHO CAN JOIN?🔹
All students from University of Sheffield & Hallam. Language students, Au pair, exchange students, friends, housemates & anybody you want to bring along with you!
♦️PRICE♦️
General Admission: £27.00
Discounted entry - Please contact your society president/Building manager or message your local rep for money off & FREE trips!
🔹WHATS INCLUDED IN THE PRICE!🔹
- Free itinerary (Details of times and locations for the day)
- Transportation by private executive coach! (Movies included)
- Guided private tour by professional tour guides telling you the most important info!
- Lets Go representative throughout the trip
- Free time in the afternoon to explore the city on your own or with friends!
- Skilled trip photographer
- All taxes included!
🔹THE TIMETABLE 🔹
7.15 am: Meeting in Sheffield
7.30 am: Leaving Sheffield
11am: Expected arrival at Conwy Castle
11:10am: Free time to explore Conwy for 1 hour 30.
1pm: Expected to leave Conwy and head for Snowdonia
1:30pm: Begin our walk up Snowdon!
5:30pm: Meeting back on the coach!
9.00 pm: expected arrival in Sheffield
📷 Connect 📷
◆ Facebook: https://www.facebook.com/Lets-Go-Sheffield-516760875410135/
◆ Instagram: @letsgosheffield
💷 Jobs 💷
Get paid to travel!
Get paid to party!
Join our EPIC staff parties!
Exclusive discounts for your friends!
Be the life of the party!
Message your local rep for more details:
Toby (WhatsApp): 07411078013
Facebook: https://www.facebook.com/toby.henriquespresson.9
📲CONTACT 📲
Lets Go Sheffield
📧Info@letsgo-uk.com
📞 07411078013
---
Venue
Sheffield Coach Station , Archway Centre, Pond Square , Sheffield