Lets Go Sheffield's trip to Whitby & Robin Hood's Bay! - Yorkshire's favourite holiday destination!
Sheffield Coach Station, Sheffield
Sunday, 10 Mar 2019
7:30am to 9:00pm
---
Tickets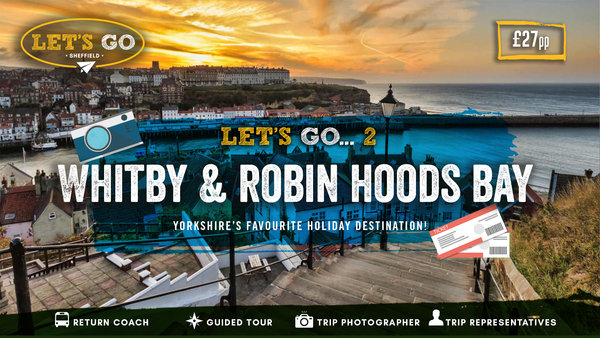 ---
🔹WHITBY & ROBIN HOOD'S BAY🔹
It's time to head to the east coast and to the sea-side resort of Whitby! While the sea might be too cold for a quick swim (Welcome to England), this seaside resort is famed for its fishing, and there's no better place to try the traditional English meal- fish and chips! The town has an interesting history, from the apparent first landing place of Dracula, straight from Transylvania to the great Whitby Abbey, which housed the earliest recorded English poet. Throw in the occasional Viking invasion, and you get the idea. Fossil and artefact shops are aplenty, so make sure you take the time to explore and see what this quaint little town has to offer.
Heading down the coast, we arrive at Robin Hood's Bay. While the origin of the name is uncertain and there is still dispute whether the man himself ever visited, the name has stuck for many centuries. Legend has it that Robin forced a host of French pirates that came to pillage on English soil to surrender, before famously returning those goods to the poor. Robin hood's bay was a widely known place for 'dodgy-dealings' and questionable characters. It's natural isolation, marshy surroundings and narrow, winding streets made it perfect for smuggling in alcohol and tobacco, which, presumably, must have paid a lot better than the fishing!
🔹TRIP INFO 🔹
DESTINATION: Whitby & Robin Hood's Bay 📍
WHEN: Sunday 10.03.2018, meeting at 7.45 am (bus leaves at 8. am)📅
MEETING POINT: Sheffield Coach Station, Bay E4,Archway Centre, Pond Square, Sheffield S1 2BD
🔹WHO CAN JOIN?🔹
All students from University of Sheffield & Hallam. Language students, Au pair, exchange students, friends, housemates & anybody you want to bring along with you!
♦️PRICE♦️
General Admission: £27.00
Discounted entry - Please contact your society president/Building manager or message your local rep for money off & FREE trips!
🔹WHATS INCLUDED IN THE PRICE!🔹
- Free itinerary (Details of times and locations for the day)
- Transportation by private executive coach! (Movies included)
- Guided private tour by professional tour guides telling you the most important info!
- Lets Go representative throughout the trip
- Free time in the afternoon to explore the city on your own or with friends!
- Skilled trip photographer
- All taxes included!
🔹THE TIMETABLE 🔹
Meeting at 7.45 am
Leaving Sheffield at 8.00 am
10:45 am: Arriving in Whitby
After: Guided tour through Whitby
After: Free time in Whitby
2:45 pm: Leaving Whitby to Robin Hood's Bay
After arrival: Free time in Robin Hood's Bay
6.15 pm: Leaving Robin Hood's Bay
7:30pm: Arrival in Sheffield
💠 LETS GO SHEFFIELD 💠
Lets Go Sheffield is your #1 provider of international events, activities and trips in Sheffield. We support thousands of Internationals right here in the heart of Sheffield by putting on weekly events that are packed with entertainment!
🔶WEEKDAYS - Check out Facebook page for events, activities, meet ups, MORE FREE STUFF & Offers/discounts/money off promotions!!
🔶THURSDAYS - International Hang out - Join us weekly for quizzes, FREE 🍕, Games, Ice breakers and much much more. We won't charge you a penny.. EVER! 😁
🔶FRIDAYS - Bar crawls & International parties! We love to bring the worldwide culture to Sheffield. Join us at our Bi Weekly event in House of Hugo for 196 International parties or come along to one of our highly popular themed bar crawls that leave you wanting more!
🔶SATURDAYS & SUNDAYS - Grab the essentials, we're going on a journey! Every weekend we take you to a different destination across the UK. Bringing you the best experiences joined by like-minded individuals for you to get the most out of your time abroad! We'll arrange everything, so don't worry about a thing! Just DON'T forget your 📷
'Life is either a daring adventure or nothing at all' - Helen Keller
'You only live once, but if you do it right, once is enough!' - Mae West
🚌🗺️⛰️🏛️📸
📷 Connect 📷
◆ Facebook: https://www.facebook.com/Lets-Go-Sheffield-516760875410135/
◆ Instagram: @letsgosheffield
💷 Jobs 💷
Get paid to travel!
Get paid to party!
Join our EPIC staff parties!
Exclusive discounts for your friends!
Be the life of the party!
Message your local rep for more details:
Toby (WhatsApp): 07411078013
Facebook: https://www.facebook.com/toby.henriquespresson.9
📲CONTACT 📲
Lets Go Sheffield
📧Info@letsgo-uk.com
📞 07411078013
---
Venue
Sheffield Coach Station , Archway Centre, Pond Square , Sheffield