Festival of Debate - Our Planet Hub Day
Theatre Deli, 202 Eyre Street, Sheffield S1 4QZ, Sheffield
Saturday, 11 May 2019
11:30am to 9:30pm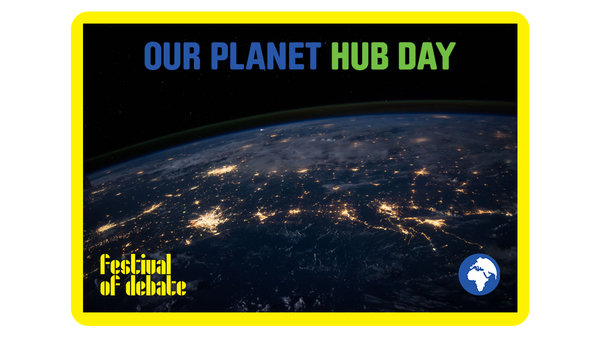 ---
**IF YOU AREN'T ABLE TO SIGN UP FOR A TICKET, PLEASE COME ALONG ON THE DAY. THERE WILL BE PLENTY OF ROOM FOR EVERYONE**
In partnership with Sheffield Climate Alliance & Regather.
In the face of overwhelming scientific evidence of man-made climate change, how do we take action to significantly reduce our impact on the world? The challenge can seem too big, too daunting, and while knowledge and understanding are important, just as important is a belief that we can change things for the better. The Festival of Debate Our Planet Hub Day explores many related topics through a range of short concurrent sessions.
This event will be followed by a concluding performance by pianist and climate activist Lola Perrin, featuring guest speaker Asad Rehman (Executive Director, War on Want) (tickets sold separately).
---
SCHEDULE
11:30AM-1PM
TURNING EARTH: VEGAN BREAKFAST CLUB
---
1:30-2:15PM
WORKSHOP | ZERO WASTE LIFESTYLE
TALK | WHAT THE ACTUAL FRACK?
TALK | OUR ARCTIC: AMPLIFICATION OF CLIMATE CHANGE
---
2:30-3:15PM
TALK | ARE ATTENBOROUGH-STYLE DOCUMENTARIES STOPPING SHORT OF THE TRUTH?
WORKSHOP | SO YOU WANT TO TAKE ACTION ON CLIMATE CHANGE?
FILM | A PLASTIC OCEAN
---
3:30-4:45PM
PANEL | HOW TO BE HOPEFUL ABOUT CLIMATE CHANGE
TALK | A SUSTAINABLE ENERGY POLICY FOR YORKSHIRE
FILM | A PLASTIC OCEAN (CONT. PLUS TALK)
---
5PM
PANEL: CAMPAIGNING VS DIRECT ACTION: HOW FAR SHOULD WE GO IN THE FACE OF EXTINCTION?
---
8PM
TALK & MUSIC | CLIMATE KEYS FT. LOLA PERRIN & ASAD REHMAN (WAR ON WANT) - MORE INFO: https://events.ticketsforgood.co.uk/events/1133-climate-keys-featuring-lola-perrin-asad-rehman
---
This event is part of the 'Our Planet' strand which has kindly been sponsored by Sheffield Climate Alliance and Regather.
For further information and our full programme visit www.festivalofdebate.com
---
Venue
Theatre Deli, 202 Eyre Street, Sheffield S1 4QZ , 202 Eyre street , Sheffield