HANNES RIEPLER 4 FEATURING CHRIS CHEEK
Crookes Social Club,, Sheffield
Friday, 21 Apr 2017
8:00pm to 10:30pm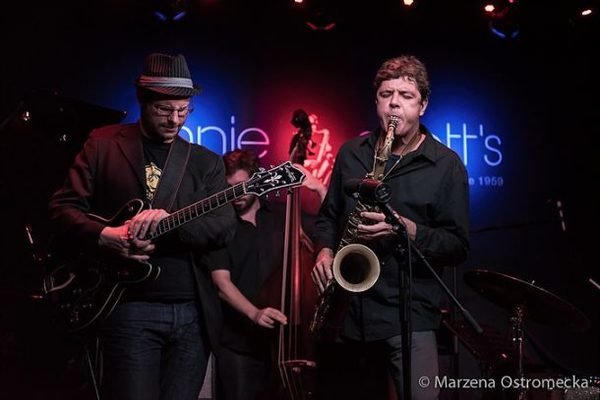 ---
Friday 21st April. 20:00 – 22:30.
At Crookes Social Club
Full £14, Concessions £11, Student with NUS card £7, 15 – 18 year olds £2, Under 15s Free. Advance tickets from www.sheffieldjazz.org.uk
Hannes Riepler: guitar; Chris Cheek: sax; Oli Hayhurst: bass; James Maddren: drums
Austrian-born guitarist Hannes Riepler has become an integral part of the London jazz scene and he established the Jazz Nights held at the Vortex Jazz Club which featured a set including celebrated New York saxophonist Chris Cheek and drummer James Maddren with bassist Oli Hayhurst sitting-in. The energy and chemistry between the musicians was so natural that it led to a European tour and recording in 2015, followed by this tour.
https://soundcloud.com/hannes-riepler/sets/preview-hannes-riepler-wild-life-released-jan-09-2016
This recording, titled "Wild Life", was Hannes Riepler's second album as a leader and as released on Jellymould
Jazz in January 2016. The compositions on Wild Life are Riepler's direct response to his surroundings living in East
London, feeding off the rich multi-cultural, bustling energy that is present on the everyday streets of Dalston. Riepler is a composer who is interested in form. Deeply rooted in the jazz tradition, with an open ear to many other genres the compositions enable the group to freely expand on his musical ideas.
Hannes Riepler grew up in Austria, studied jazz guitar in Amsterdam and moved to London in 2006, where he dived into the vibrant scene and played all over the city alongside fellow jazzers young and old. An energetic and inventive guitar player and spirited composer, he has become a mover and shaker of jazz in London himself. Riepler actively plays both as a bandleader and as a much sought-after sideman in the UK and abroad.
Born in St. Louis, Missouri, Chris Cheek began playing the alto sax at the age of 12 and went to Boston in 1988 to attend Berklee College of Music where he studied with Herb Pomeroy, Joe Viola and Hal Crook. Chris moved to New York in 1992 and since then he has become recognised as one of the world's leading saxophonists and has toured and recorded with Paul Motian, Charlie Haden's Liberation Music Orchestra, and The Bloomdaddies. He has also played with Bill Frisell, Brian Blade, Lee Konitz, Carla Bley, Tom Harrell, Wolfgang Muthspiel, Brad Mehldau, Kurt Rosenwinkel, and many others!
The rhythm unit of James Maddren and Oli Hayhurst also brings real quality,character and strength to the party.
"the close chemistry between Riepler and one of New York's highest quality contemporary jazz saxophonists Chris Cheek is a big plus factor. In the end it's perhaps Riepler's "Nothing New Just Beautiful" that says more about the recording than the album title itself." …Four Stars, Selwyn Harris, Jazzwise
"London continues to be a magnet for foreign jazz musicians, and one of the best is Austrian guitarist Hannes Riepler" The Daily Telegraph
"Wild Life looks set to be one of the best UK based releases of 2016."… Ian Mann, The Jazz Man ****
---
Venue
Crookes Social Club, , Mulehouse Road , Sheffield