JAY PHELPS QUARTET
Crookes Social Club,, Sheffield
Friday, 28 Apr 2017
8:00pm to 10:30pm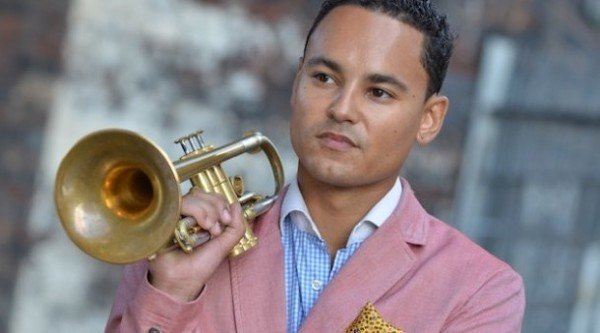 ---
Friday 28th April. 20:00 – 22:30.
At Crookes Social Club
Full £14, Concessions £11, Student with NUS card £7, 15 – 18 year olds £2, Under 15s Free. Advance tickets from www.sheffieldjazz.org.uk
Jay Phelps: trumpet; Rick Simpson: piano; Mark Lewandowski: bass; Shane Forbes: drums
A fiery and swinging quartet led by a former Tomorrow's Warrior and Empirical star. Top Canadian trumpeter and Ronnie Scott's regular, Jay Phelps is at the forefront of the young and creative generation of jazz musicians, with an instantly recognizable warm and projecting tone. After his sell-out concert at the Crucible Studio with his Miles-oriented sextet in 2014 Jay returns to Sheffield leading his quartet, a band that explores the far reaches of the musical world with a strong sense of their jazz background.
A Vancouver-born Canadian, Jay was tutored by the city's top jazz and classical trumpeters and distinguished himself early on as the youngest band-leader in the Vancouver International Jazz Festival's history. In 1999 aged 17, Jay moved to London, determined to immerse himself in the jazz scene and immediately attracted the notice of Gary Crosby who offered him work with Jazz Jamaica in 2002, the opportunity to be a Tomorrow's Warriors. Citing Louis Armstrong, Fats Navarro, Clifford Brown and Miles Davis as his main influences, Jay went on to create and co-lead the young and hip jazz sensation Empirical, where he spent two years touring major festivals and events with their self-titled debut album, while garnering worldwide media attention that UK jazz musicians haven't enjoyed for years.
Jay has performed and recorded with a veritable who's who of both UK and international jazz artists such as; Courtney Pine, Andrew Hill, Wynton Marsalis, Ray Brown, John Hendricks, Nasheet Waits, George Benson, Jamie Cullum, Sir John Dankworth, Dennis Rollins, Guy Barker, Amy Winehouse, Charlotte Church, Hugh Masakela and Jazz Jamaica.
Jay Phelps has never been work shy and over the years has toured and is featured in a diverse range of bands such as Soweto Kinch The New Emancipation project and new project The Legend of Mike Smith, Skatroniks, Ska Cubano, Courtney Pine's Jazz Warriors project, and leads his own Jay Phelps Big Band project featuring BBC Radio 2's Clare Teal.
He has guested with Wynton Marsali's Jazz at Linclon Centre Orchestra for Marsalis' epic, Congo Square. Then later that summer proceeded to have two sell out nights featuring the Jay Phelps Big Band at the world renowned Ronnie Scott's jazz venue in London. Then capped off that year playing in the London Jazz Festival with David Murray Big Band featuring Macy Gray and supporting the performance with his own quartet.
Jay expanded his wings into TV where he featured in a 1930s band on BBC's Dancing on The Edge, written and directed by Stephen Poliakoff. As well as being a late night host and performer of London's top music venues, Jay regularly tours nationally and internationally with his own bands (JPQ, Projections: Of Miles (which had a sell-out concert at the Crucible Studio in 2014), Jay's Jitter Jive). Although he has called London home for half his life, Jay is now based internationally to expand and immerse himself in the world's musical cultures.
Rick Simpson (piano) is well established on the London scene, playing a wide variety of music, and leading his own group. Rick is a regular performer at Ronnie Scotts, the 606 Jazz Club, Pizza Express Dean Street, The Vortex, The Bull's Head, and he has appeared at larger UK venues such as the Royal Festival Hall and the Purcell Room. In 2008 Rick won a Yamaha Scholarship Prize for Outstanding Jazz Musicians.
Mark Lewandowski (bass) has been described as having a "huge vibrant, singing tone (producing) some amazing solos with the agility and articulation of a horn player" (Evening Post). Originally hailing from Nottingham, Mark's interest in the bass took him to London to study at the Guildhall School of Music and Drama.
Shane Forbes (drums) from Lewisham, was also a member of both Young Warriors and Empirical. In 2009 Shane was the winner of the Worshipful Company of Musicians award.
"Jay Phelps has a clear and rounded tone, a directness and an underlying joy in each note he plays. Even when the mood is blue, the vibe is never mournful – the man exudes optimism and warmth, his clear technical skill always used in the service of the emotional expression of the music. He sometimes smears and squashes notes, giving an almost vocal expression to his lines, before breaking out into clean bell-like tones… For a player as talented and positive as Jay Phelps he is criminally under-represented on record"… Peter Bacon, The Jazz Breakfast
"An intense yet charming young trumpeter.. Jay truly brings out the fun in his instrumental jazz. His face, so thoughtful at rest contorted itself at play to reveal multiple layers of pure happiness. This band takes their music very seriously but their equal priority was to have a good time!"… London Jazz News
"Phelps is not only keeping the spirit of jazz alive but breathing a whole lot of new life into it"…Amanda McCormack
http://home.wtd-magazine.com/2014/04/03/music-review-jay-phelps-sextet-projections-of-miles-reviewed-by-steve-waring/
http://www.londonjazznews.com/2014/02/review-jay-phelps-projections-of-miles.html
---
Venue
Crookes Social Club, , Mulehouse Road , Sheffield