MATT RIDLEY QUARTET
Crookes Social Club,, Sheffield
Friday, 19 May 2017
8:00pm to 10:30pm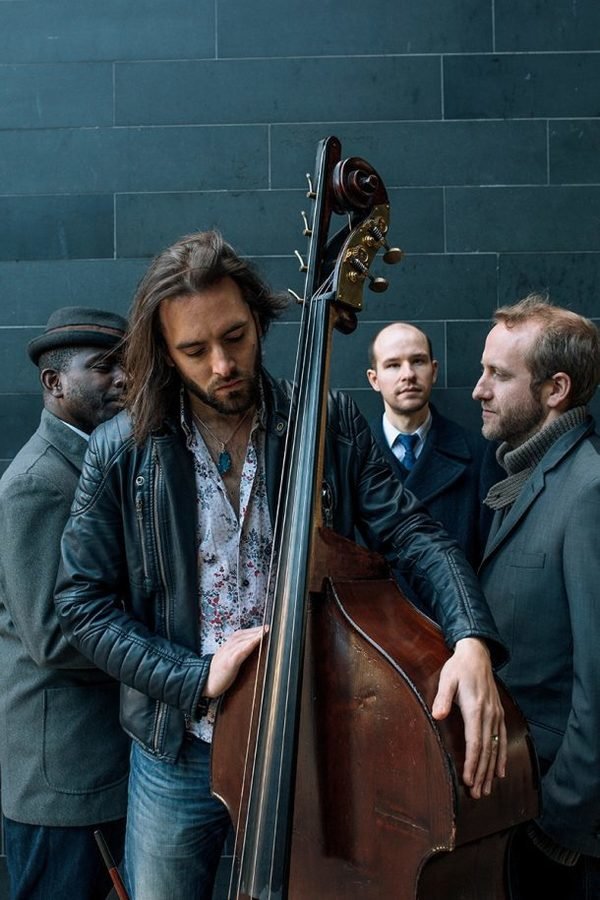 ---
Friday 19th May. 20:00 – 22:30.
At Crookes Social Club
Full £14, Concessions £11, Student with NUS card £7, 15 – 18 year olds £2, Under 15s Free. Advance tickets from www.sheffieldjazz.org.uk
Matt Ridley: bass; Jason Yarde: sax; John Turville: piano; George Hart: drums
The Matt Ridley Quartet have established themselves as one of Britain's very finest contemporary quartets. The quartet's music takes the listener on an absorbing journey, which marries the exhilaration of jazz improvisation with intricately sculpted arrangements. Ridley eschews the traditional head/solos/head approach to composition. At the heart of each composition is a strong, memorable melodic theme, the realisation of which draws on any number of influences to bring fullest expression. Classical, groove-based styles and 'world' music can all be distinguished, while the ferocious improvisational skills of each member make for an absorbing and entertaining listening experience.
https://www.youtube.com/watch?v=NspLh1ipHSo
https://www.youtube.com/watch?v=xWE5VYGJfwA
http://www.mattridleybass.com/4tet.html
The 2013 debut trio release 'Thymos' garnered extensive praise from critics and audiences alike; A substantial statement of compositional and improvisational chutzpah, the music draws on the many influences of Ridley's extensive performing career. The album features numerous guests, notably saxophonist Jason Yarde, and a distinct Middle-Eastern flavour from oud maestro Attab Haddad and percussionist Vasilis Sirikis.
For the launch tour of 'Thymos', Jason Yarde joined the trio thenceforth, a collaboration which generated a whole new batch of compositions and culminated in their second studio album entitled 'Mettā'. Released in 2016 to 4* reviews, 'Mettā' sets the bar yet higher across the board. Featuring a more mature and soulful compositional outlook, the emotional impact is both wider and deeper than one would expect from a jazz album. The musical landscape is one of focused rhythmic, harmonic and improvisational invention which can both challenge and delight, with the restrained minimalism of the opening 'Music to Drive Home To', giving way to the pulsating, burning improvisations of 'Mental Cases'….and much more besides.
Thanks to a generous grant from the Arts Council of England, the quartet spent a good deal of time in early '16 writing and rehearsing new compositions, pushing the boundaries of their creativity further still. Their live set comprises favourites from both studio albums, alongside new repertoire which has not yet been recorded.
Matt Ridley graduated from Trinity College of Music in 2005, and has since established himself as one of the most versatile, creative and hard-working bass players on the UK jazz scene. Notable credits include the 'MJQ Celebration', Darius Brubeck Quartet, Michael Garrick's big band/quartet/lyric ensemble, the Ant Law Trio/quintet. He has performed internationally and at London's most prestigious venues.
Jason Yarde started out with the Jazz Warriors as a teenager and went on to MD this landmark orchestra, becoming one of its principal writers. Jason was the leader of the award-winning group J-Life, has been twice-nominated for a BBC Jazz award for Innovation. He has performed with the big bands of McCoy Tyner, Andrew Hill, Hermeto Pascoal, Sam Rivers and Manu Dibango, arranging and directing the latter for the Barbican Centre. In' In 2009, he won the inaugural BASCA award for 'Contemporary Jazz Composition'. He also received a Paul Hamlyn Foundation Arts Award in 2010.
John Turville is a versatile, mutli-award winning pianist. He has recorded two acclaimed CDs under his own name, founded, writes for and directs the E17 large ensemble, and has been commissioned to write works for the Solstice Quartet, Living Room and Transtango. As a freelance pianist he has toured the UK and Europe with Tim Garland, Gilad Atzmon, the London Tango Orchestra, Transtango, Frank Griffith and Natacha Atlas.
George Hart started playing the drums and performing at an early age. He was introduced to jazz by his father, performer and composer, Paul Hart, with whom he did many of his first gigs. After attending local jazz workshops, visiting jazz Summer schools and honing his sight reading with the National Youth Jazz Orchestra, he applied for the undergraduate jazz course at the Royal Academy of Music. He studied here from 1998-2002, graduating with first class honours. Since then George has been freelancing in London.
'One of Britain's very finest contemporary quartets…the Matt Ridley Quartet is highly creative and exciting, working in a genre somewhere between free form and advanced lyricism and containing four talented musicians who have developed an almost telepathic musical understanding.'…Jazz Views November 2015
"A very organic and at times crystalline sounding quartet."…★★★★ The Scotsman
"A very good album by an excellent quartet."…★★★★ All About Jazz
"Ridley's gently melodic but rhythmically sophisticated themes provide ideal vehicles for some superb group interplay and some inspired individual soloing."…★★★★ The Jazz Mann
'gorgeously liquid soloing enlivens the absorbing 'Mettā' …★★★★ Jazz Record Collector
---
Venue
Crookes Social Club, , Mulehouse Road , Sheffield