Beam Me Upperthorpe!
Zest Centre, Sheffield
Saturday, 22 Jun 2019
11:00am to 3:00pm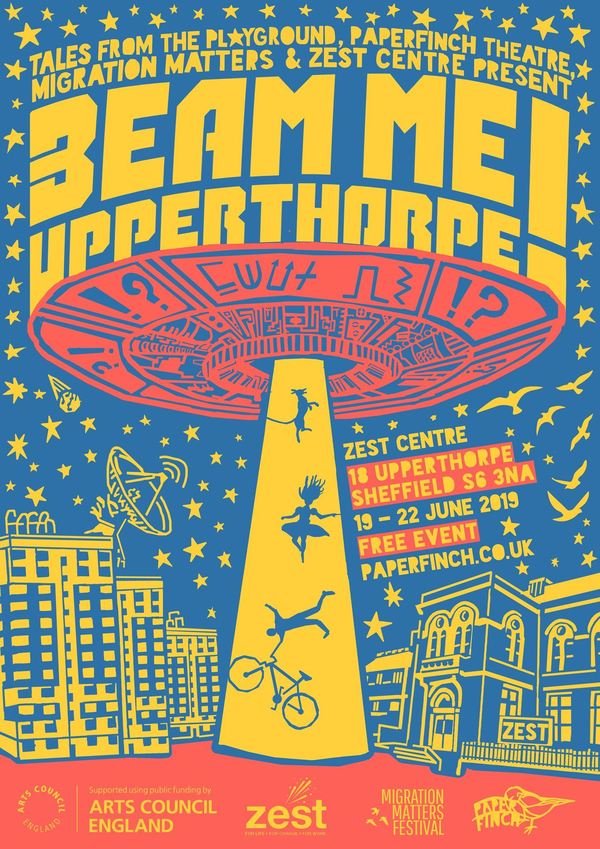 ---
Something's up in Upperthorpe.
There's slime in the gutters, crop circles on the Pondarosa, and the men in black are hiding around every corner.
Armed only with tin-foil hats and homemade telescopes, a stargazing youth club team up with top scientists to solve this interstellar mystery. Will you join the Sheffield Space Cadets?
Build satellites, track spaceships, and have a close encounter with an alien race in this interactive family adventure created by Paperfinch Theatre and the young people of Zest Centre.
----
Tales From The Playground is kindly supported by Arts Council England
* All welcome, recommended age range 5+ years
** Due to the physical nature of the show, there may be some access restrictions.
Please email talesfromtheplayground@gmail.com for more detail or with any questions.
---
Venue
Zest Centre , 18 Upperthorpe , Sheffield