Stories of Sanctuary
Lanchester Methodist Church, Lanchester
Friday, 6 Sep 2019
7:30pm to 9:30pm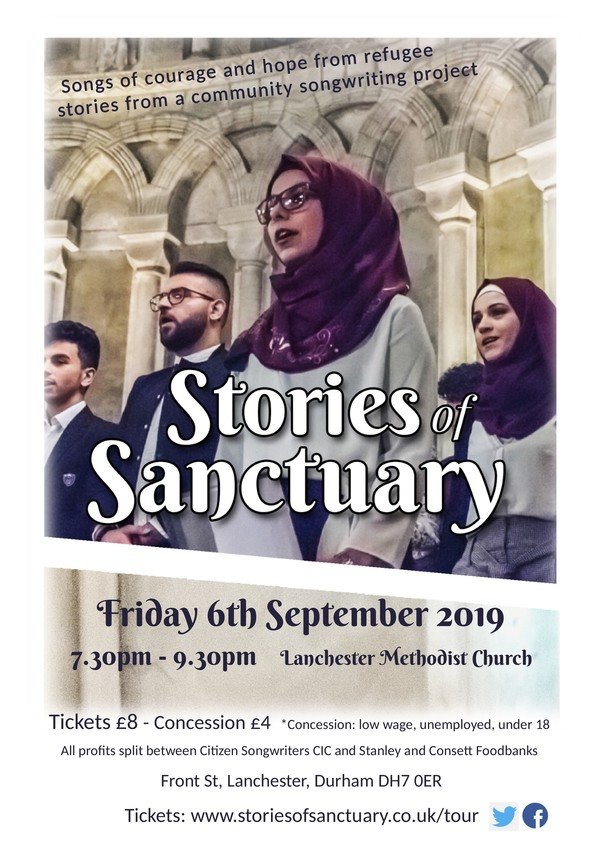 ---
Following a successful year of touring the UK, the Stories of Sanctuary community project returns to the North East! An emotive and poignant show of original songs written and performed by those with experience of seeking sanctuary, linking the past with the present. Drawing on Durham's rich history of offering sanctuary – from the arrival of an exiled monastic community seeking sanctuary from the Vikings to modern stories of fleeing the civil war in Syria – Stories of Sanctuary warmly invites you into the project that inspired infectious friendships as well as deeply beautiful songs.
Stories of Sanctuary is made up of the Sanctuary Seekers Choir, featuring the National Syrian Orchestra's Raghad Haddad along with the project's curator and singer-songwriter Sam Slatcher. The project was rated 9/10 at its sold-out premiere at Durham Cathedral in October 2018 and has been to Sheffield, Hull, Leicester and Birmingham for the UK tour.
"Timely, emotional and beautiful"
(Sean Cooney, The Young'uns)
"Stories of Sanctuary speaks loudly of hope in the midst of difficulty and hardship, light in the midst of dark and dangerous times. As you journey with Sam and his co-collaborators through Stories of Sanctuary you will
experience great beauty, peace and musical depth"
(Gareth Davies-Jones)
Tickets are £8, or £4 for low waged, unemployed, or under 18.
(£0.00 for Choir Performer Tickets - see below)
All profits split between Citizen Songwriters CIC and Stanley and Consett Foodbanks
*PLEASE NOTE* If you would like to join the choir for Friday's performance, there is an opportunity to join the Open Rehearsal which will take place at 3 - 5pm at Lanchester Methodist Church. The rehearsal is open to anyone. Please email storiesofsanctuary@gmail.com to register your place. There are FREE tickets for anyone joining the choir for the evening performance.
---
Venue
Lanchester Methodist Church , Front Street , Lanchester