Little Wing Film Festival 2019 // Society On Screen + Q&A
Mirth, Marvel & Maud, London
Saturday, 21 Sep 2019
12:00pm to 1:45pm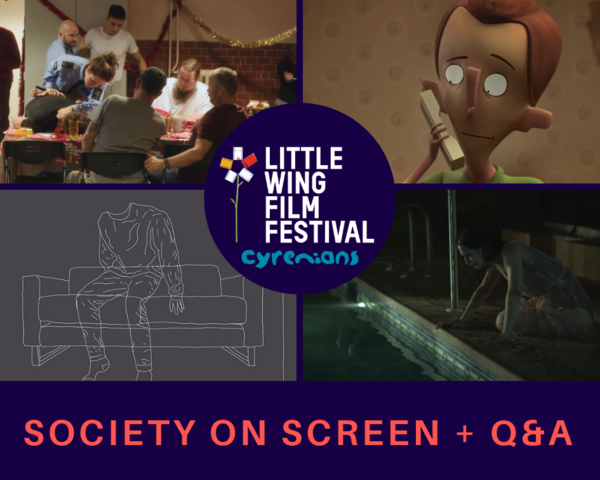 ---
Your booking fee goes towards the TicketsForGood Foundation which allows charities and social projects to help underprivileged people enjoy events in film, music, and the arts. Thank you.
Society on Screen + Q&A : Exploring film's role in representation and empathy around social issues with Cyrenians. Hosted by ScreenSpace and MET Film School
From London's rough sleepers to isolated adults, join us for a screening and Q&A with homelessness charity, Cyrenians, and special guests as we dissect representation of social issues on screen and the role that film plays in engaging audiences to respond.
Don't forget to pick up your bag of Metcalfe's popcorn!
HEDGEHOG
UK – 11 min- Dir. Edward Bulmer
Gareth has a debilitating sense of self-doubt and anxiety which follows him around … in the form of a hedgehog.
HIDDEN HOMELESSNESS
UK – 2 min – Dir. Jane Leggat & Georgie Cubin
Not all homelessness is visible. This animation shines a light on a different way to experience homelessness which is often overlooked.
BLEED THE FLOOR
UK – 10 min – Dir. Max Tobin & Ed Whyte
A man with a severe case of facial bleeding attempts to seek help at a medical clinic. This social commentary challenges a healthcare system that takes illness at face value, and shines a light on the pain we cause and carry that goes unseen.
THE SOFA SURFER
UK – 7 min – Dir. Corey Smith
This spoken word film gives a voice to the younger of London's rough sleeps and challenges us to empathise with those often ignored and stigmatised.
RIPPLES
CANADA – 6 min – Dir. Christina Borgs
Hurt people hurt people. This experimental dance short explores a woman caught in a cycle of abuse at the hands of her partner.
HOLY JAIL
USA/NORWAY – 11 min – Dir. Maria Lavelle
After opting for a temporary jail sentence rather than paying his speeding ticket, an elderly man finds life behind bars far less isolating than life on the outside.
SURF MERMAID
AUSTRALIA – 13 min – Dir. Charlotte Rowson
Josie Jones has overcome abuse and adversity to become an environmental warrior and create a legacy in her community. With an ever optimistic outlook and a little kindness along the way, we look back on one woman's journey finding happiness for herself and her son.
---
Venue
Mirth, Marvel & Maud , 186 Hoe St, Walthamstow , London