Little Wing Film Festival 2019 // Disable The Lens + Q&A
CRATE Brewery, London
Saturday, 21 Sep 2019
4:30pm to 6:30pm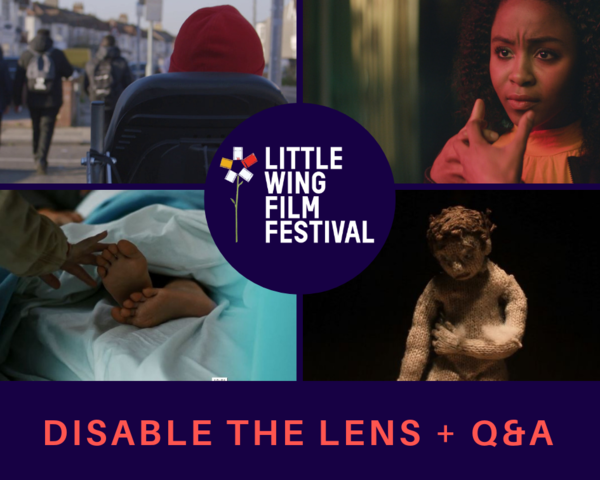 ---
Your booking fee goes towards the TicketsForGood Foundation which allows charities and social projects to help underprivileged people enjoy events in film, music, and the arts. Thank you.
DISABLE THE LENS + Q&A: Hosted by ScreenSpace and MET Film School with Guests
Today we're discussing disability and how it's represented in film, alongside a screening of shorts touching on issues around disability as told by today's filmmakers. Don't forget to pick up your bag of Metcalfe's popcorn!
STITCH
UK – 4 min – Dir. Siobhán Smith
Harry attends an interview which will decide if he can carry on receiving benefits that enable to him to live a sustainable life. Using real life examples, Stitch highlights the need for change in the way sick and disabled people are treated in the UK.
(UN)MOVED
UK – 6 min – Dir. Dan Wood
Isaac Harvey is a young filmmaker who doesn't let barriers phase him. Isaac was born with Limb-pelvic Hypo Aplasia, meaning he has no arms and short legs. With a powered wheelchair to provide independence, the 23-year-old doesn't let his disability hold him back.
MASH
UK – 13 min – Dir. Tyro Heath
An able-bodied young girl finds freedom from her chaotic home life in her local East London scrapyard, where she hopes to find ways to make her work more accessible to her brother, in the little ways she knows how.
FORGET-ME-NOT
UK – 8 min – Dir. Sarah Smith
With an insider look at the personal journey of an incurable cancer patient, Alaine Smith – her mother - one filmmaker aims to debunk the stigma around talking about incurable illness, demonstrating the support and understanding that can be gained by a single conversation.
LOVE AND LOSS
USA – 22 min – Dir. Yiying Nikki Li
We meet Nicole and Karen, two physically disabled women who are navigating their lives and journeys in love, while exploring the contrasts between being born disabled and becoming disabled later in life.
CODA
USA – 22 min – Dir. Erika Davis March (subtitled)
A young dancer struggles with her bi-cultural identity when she meets a confident young Deaf drummer who stirs up old conflicted feelings about growing up hearing in a Deaf family.
---
Venue
CRATE Brewery , CRATE Building, 35 St James St , London