The Case for the Green New Deal with Ann Pettifor
Café+ Red Haus Books, Sheffield
Thursday, 23 Jan 2020
6:30pm to 9:00pm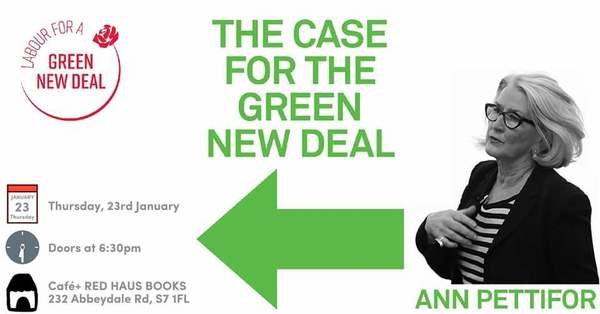 ---
Join us for a talk by political economist Ann Pettifor, about the origins and growing need for Green Economics
📅 Thursday 23rd January
🕒 6:30pm
📍 Café+ RED HAUS BOOKS
🎟️ Link for tickets coming soon 🎟️
The Green New Deal has the potential of becoming one of the largest global campaigns of our times, and it started in Ann Pettifor's flat. In 2008, the first Green New Deal was devised by Pettifor and a group of English economists and thinkers, but was ignored within the tumults of the financial crash. A decade later, the ideas were revived within the democratic socialists in the US, forefronted by Alexandria Ocasio-Cortez.
In her newest book, The Case for the Green New Deal, Pettifor offers a roadmap for financial reform both nationally and globally, taking the economy back from the 1%. The Green New Deal demands a radical and urgent reversal of the current state of the global economy: including total de-carbonisation and a commitment to fairness and social justice.
Come listen to Ann Pettifor explain how we can afford a Green New Deal (or can't afford not to have one), and then join Sheffield Labour for a Green New Deal to discuss what we need to do, and how we can act to stop the climate crisis before it's too late.
---
Venue
Café+ Red Haus Books , 232 Abbeydale Road , Sheffield