FAMILY COLOUR RUN SHEFFIELD
Crookes Valley Park, Sheffield
Saturday, 3 Oct 2020
10:00am to 12:15pm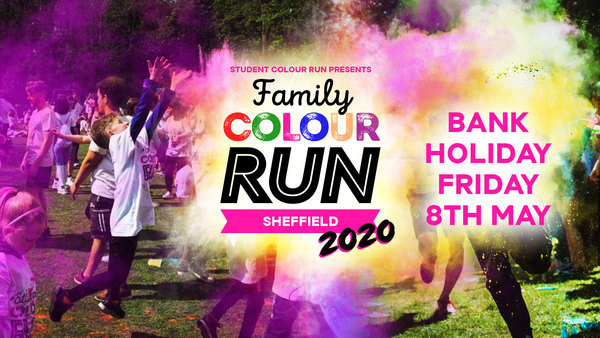 ---
Student Colour Run is proud to present...
FAMILY COLOUR RUN SHEFFIELD
❤️Bank Holiday Friday 8 May 2020 🌈🎨
CROOKES VALLEY PARK & WESTON PARK SHEFFIELD S10 2TU
Get colourful, test yourself, feel awesome, party! Run (or walk, skip, dance) the happiest event 5K ever!
Anyone is welcome to this celebration of colour, fresh air and fun. The perfect way to spend Bank Holiday Friday. Don't miss the hottest ticket of 2020!
Enjoy the big stage madness before the run with colour throwing, dancing, singing and mass warm-up. Do the 5K run and get blasted with colour and music at each colour throwing stations on the route. Celebrate your achievement and continue the party with more colour and music at the finish line.
Have an amazing time, join hundreds of participants on the unique route around the beautiful Crookes Valley Park and Weston Park.
The rules are simple:
1 Wear your exclusive white Colour Run T-shirt (you get this with your race pack)
2 Finish the event covered in colour.
3 Have an amazing time!
Student Colour Run Sheffield is the infamous annual 5K student run now in it's 6th year, beginning at 1pm. To celebrate the special Bank Holiday Friday, we have decided to host FAMILY COLOUR RUN on the same site earlier in the day.
💜 The running starts at 11am, arrive at 10am to ensure the maximum build-up, colour throwing and partying beforehand.
The run is 5km. The Route is 3 laps of 1.67km. Feel free to just do one or two laps. It's also fine to walk skip or dance the route rather than run. THIS EVENT IS PERFECT FOR ANY AGES AND FITNESS LEVELS.
If you're challenging yourself to your first 5K run, and want to use the event to get healthy and improve your fitness, read this useful link: http://bit.ly/2DSPPrt
Top tips for running a 5K here: http://bit.ly/2PiJMBH
PRICE BEFORE 1st APRIL.
Adults £18.
Kids aged 5 to 16, £9.
Kids under 5 = Free!
____________________________________
£2 from every adult ticket and £1 from every kids ticket donated to Roundabout Sheffield homeless charity.
Charity, Number: 1061313.
____________________________________
What your ticket gets you:
- Branded T-SHIRT
- Pull string bag.
- Bag of colour powder
-Race number
* Under 5's who enter for free will not get a race pack, parents can purchase bags of colour for them at the event.
* The race packs will not be posted out. There will be a collection point during the week before the event, information will be sent to ticket holders nearer the time. if participants can't make that they can collect before the event.
Click the facebook event here to keep up with all the latest information: https://www.facebook.com/events/1006043263109207/
---
Venue
Crookes Valley Park , Old Great Dam , Sheffield