Reel Steel Cult Weekender 2020 Film Festival
Abbeydale Picture House, Sheffield
Friday, 13 Mar 2020, 7:00pm - Sunday, 15 Mar 2020, 4:00pm
---
Tickets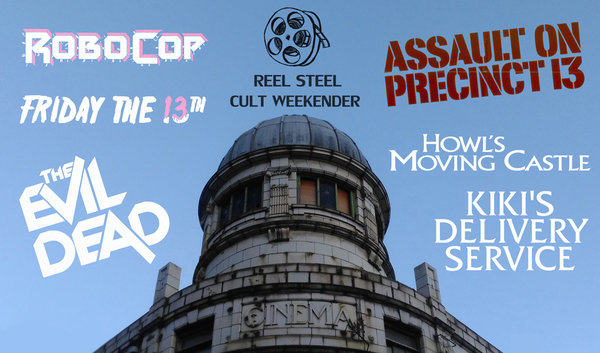 ---
The Reel Steel Cult Weekender is a celebration of films which hold a 'classic' or 'cult' status in cinema.
Taking place Friday March 13th – Sunday March 15th at Sheffield's historic Abbeydale Picture House – a Grade II listed 1920's picture palace cinema – bringing the sense of occasion to match some of cinema's most iconic films.
The 2020 weekend programme includes:
Friday The 13th (1980) - 40th Anniversary
The Evil Dead (1981)
Assault On Precinct 13 (1976)
RoboCop (1987) - presented in 35mm
Kiki's Delivery Service (Studio Ghibli) – presented in 35mm
Howl's Moving Castle (Studio Ghibli) – presented in 35mm
This weekend ticket gives entry to ALL films over the weekend.
You will also be able to take part in a special 35mm film projection tour at the Abbeydale Picture House, ahead of one of our two 35mm Studio Ghibli screenings
- details on how to book will be e-mailed to you.
You will also have extra complimentary treats to be announced closer to the event...
Further details of all the films along with screening times over the weekend can be found on our website:
www.reelsteelcinema.com/festival
Due to the age certificate of the films across the weekend, this weekend ticket would only be suitable for those aged 18 and over
- entry to films with an 18 certificate by anyone below this age will not be permitted.
You can purchase tickets for each individual screening here:
https://events.ticketsforgood.co.uk/events?q=Reel
__
---
Venue
Abbeydale Picture House , 387 Abbeydale Road , Sheffield