Naguals Single Launch with Sister Wives, Dearthworms
Delicious Clam, Sheffield
Saturday, 4 Apr 2020, 7:30pm - Sunday, 5 Apr 2020, 12:00am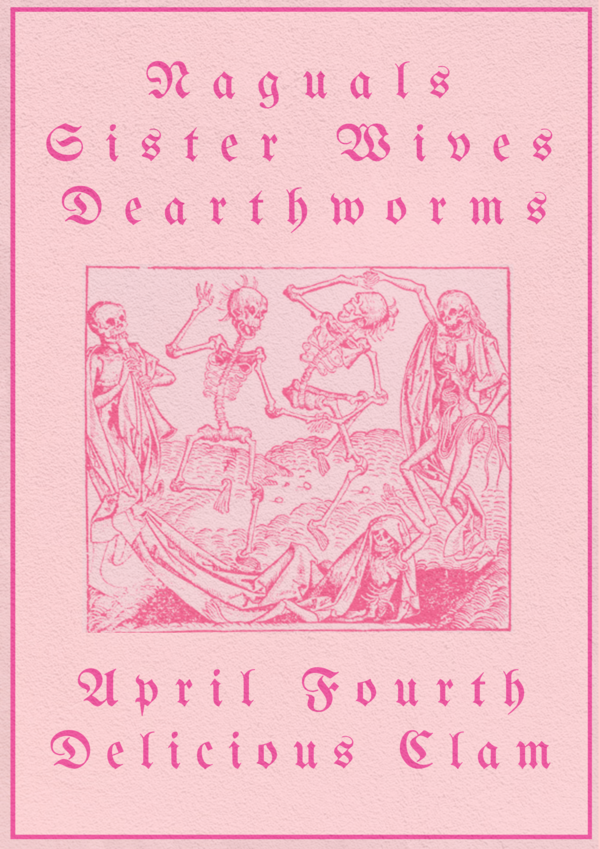 ---
Record release show for the second Naguals 7" record at Delicious Clam Records - available via Do It Thissen Records & Lathe Cuts
04 April 2020
7:30pm - Late
Tickets £6
FEATURING
NAGUALS
SISTER WIVES
DEARTHWORMS
Naguals
https://naguals.bandcamp.com/
Naguals are a cavernous anger-fuge screaming hometown hospital death bed horror. Acidic, twitchy, and anxious part-improvised post punk garage powder kegs from the North.
Sister Wives
https://sisterwivesmusic.bandcamp.com/releases
From the highest valleys and smoothest seas they rise!
Sheffield four-piece Sister Wives unified as one in 2018 to conceive wild tales that flit between Welsh and English language, sung over cavernous melodies and hypnotic beats. Their post-punk, prog-flecked psychedelia rumbles deep inside your soul and shames all those who deserve it. Featuring members of Nachthexen, Feature, Zealous Doxy and Toucans.
Dearthworms
dearthworms.onlyontapefornow.com
Rock band based in a Hatch, making music for 'me time'.
BYOB / Be Nice
---
Venue
Delicious Clam , 12 Exchange Street , Sheffield