Earth Night Amsterdam
Lofi, Amsterdam
Friday, 24 Apr 2020, 10:00pm - Saturday, 25 Apr 2020, 5:00am
---
Tickets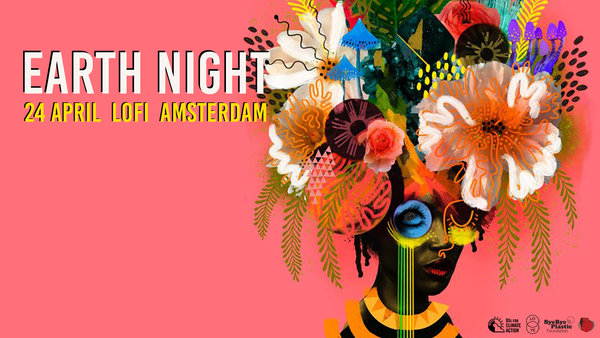 ---
DJs For Climate Action's Earth Night is twirling into its 3rd year and it's inviting cities from around the globe to consciously party for the planet. Our Amsterdam event at Lofi will be all about harnessing the power of music to move people in a way that will be ASAP (as sustainable as possible).
Working alongside social justice and sustainable partners Bye Bye Plastic and Love Foundation Amsterdam we are finding alternative and creative ways to keep this party sustainable:
Shimmying out single-use plastic cups;
DJ's will be death dropping their way to the gig instead of flying;
Decor that is to die for but doesn't devastate our environment and
High-kicking cigarette filters to somewhere better than the curb.
The sound for the night will be a spectrum of slick and soulful, international and local DJ's. Our international DJ's will be catching trains from across Europe as the aviation industry emits 2.5% of total global greenhouse gas emissions yearly. Our local DJ's will be bike riding in Amsterdam style of course - so let's have a fiets fissa!
LINE UP TBA
All proceeds will be grooving their way straight into our two chosen charities, Bye Bye Plastic Foundation & Coalition for Rainforest Nations, given 2019's devastating fires in the Amazon and throughout Australia. If you are unable to attend the event yet still want to help make a difference we will also have the option to donate through our ticket page.
We would like to thank the inimitable Victoria Topping Artist for the use of her glorious artwork 'Gaia - Primordial Goddess of the Earth'. www.victoriatopping.com
OUR PARTY POLICY:
We aim to create a safer space for all visitors and communities of our events, especially for those who experience harassment or discrimination frequently. We maintain a zero tolerance policy towards discrimination or harassment in any social spaces of our events.
*no isms: no sexism, no racism, ableism, classism, homophobia, xenophobia, transphobia etc.
*respect the neighbours & your fellow ravers
*be loving, be kind and be aware!
Should you witness or experience anything that makes you feel uncomfortable, seems unsafe or violates our policies, please reach out to our crew at the bar, door or chill-out area.
Now in the wise words of Captain Planet "The power is yours" so make sure to save that date, secure your ticket and save that planet!
---
Venue
Lofi , Basisweg 63 , Amsterdam