Sensory Workshop - Autism Union
Sparkle Sheffield, Sheffield
Friday, 5 Jun 2020
10:00am to 1:00pm
---
Tickets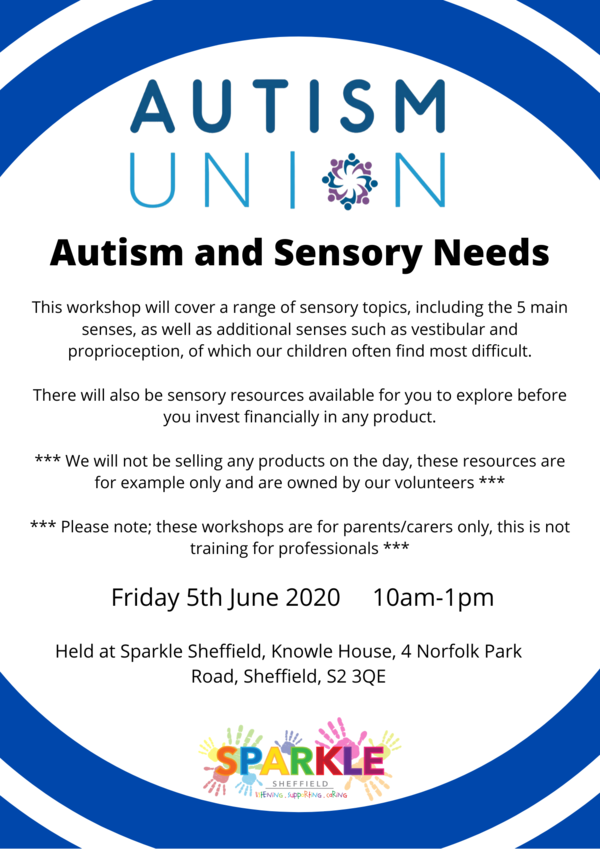 ---
This workshop will cover a range of sensory topics, including the 5 main senses, as well as additional senses such as vestibular and proprioception, of which our children often find most difficult.
There will also be sensory resources available for you to explore before you invest financially in any product.
*** We will not be selling any products on the day, these resources are for example only and are owned by our volunteers ***
*** Please note; these workshops are for parents/carers only, this is not training for professionals ***
There will also be an opportunity to talk to other parents at the workshop. Refreshments will be provided.
Welcome and refreshments from 9.45am, we aim to start at 10am prompt.
Places are strictly limited, please only book a place if you are sure that you can attend as we don't want people to miss out!
If you have any questions or would like further information, please email autismunion@mail.com
---
Venue
Sparkle Sheffield , Knowle House, 4 Norfolk Park Road , Sheffield