Tales of Whatever: Ben Target - How to Build a Lighthouse
Shakespeare's Pub, Sheffield
Thursday, 16 Apr 2020
7:30pm to 10:00pm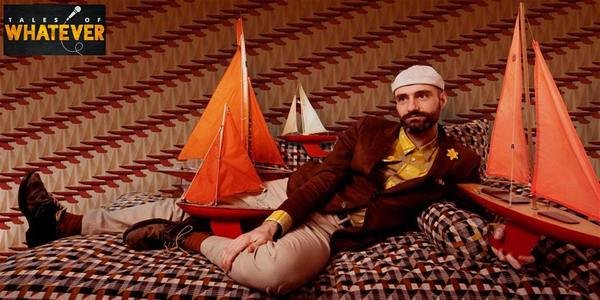 ---
How to Build A Lighthouse
Tales of belonging, a life that's spanned the oceans and the lost art of forgiveness.
Critically acclaimed art-comedian and Edinburgh Comedy Award nominee Ben Target presents a tender show for the softhearted. A "spellbinding mix" (The Scotsman) of storytelling, origami tutorials and yacht rock anthems.
Fresh from a successful run at London's Yard Theatre we are delighted that Ben is bringing this wonderful show to Sheffield.
Praise for Ben Target's work
"A true original and a legend in the making" The Guardian
"Imagine there was no Ben Target. The world would unquestionably be a darker, less interesting place." Chortle
We are delighted to welcome Ben Target back to Tales of Whatever, he is one of our favourite comedians and the WiP version of this show that we saw in Edinburgh 2019 was already pretty special and we can't wait to share the finished article with you.
Support comes from comedian Helen Duff. We saw Helen at the Leicester Comedy Festival in February and we loved her silliness and irrepressible energy. She has graced the silver screens both small and large and is a critically acclaimed alumni of French master clown Philippe Gaulier.
As seen on BBC Three, BBC Two's 'The Mash Report', and alongside Will Ferrell in 'Holmes & Watson'.
"fresh, quick witted and supremely empowered... a formidable comic" ★★★★ THE SCOTSMAN
"Deserves any and all praise that comes her way"★★★★ The Skinny
"Master of shamelessly silly yet socially conscious clowning" ★★★★ Broadway Baby,
★★★★ Edinburgh Festivals ★★★★ Voice Mag
Tales of Whatever is a true storytelling show hosted by Mark Powell and Lee Moore. More info on our facebook page and at www.talesofwhatever.com
"Conversational, funny and inclusive" The Guardian
Doors 7.30pm
---
Venue
Shakespeare's Pub , 146-148 Gibraltar St , Sheffield