Tales of Whatever: Sam Nicoresti & Rob Kemp
Shakespeare's Pub, Sheffield
Sunday, 7 Jun 2020
7:00pm to 9:30pm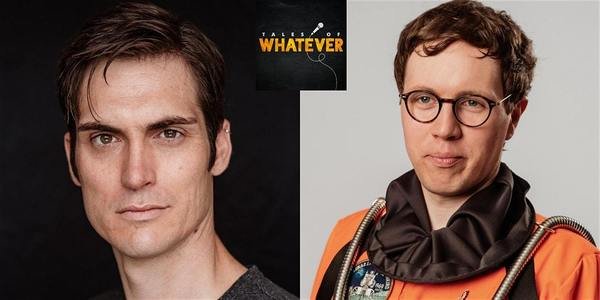 ---
We are delighted to present two superbly talented comedians in Sam Nicoresti and Rob Kemp. Sam will be performing his excellent storytelling/comedy showsfrom Edinburgh 2019 - UFO. Rob Kemp will be sharing a Work in Progress of his new 2020 show No Man's Land.
Sam Nicoresti - UFO
The universe is dark and full of eyes.
In 1998, Sam Nicoresti was abducted by aliens. Now he's ready to reveal the beans and spill the truth in his debut show, a late-night space flight past dimensions one through ten.
Sam Nicoresti is one half of cult bad boys Sam & Tom ("I loved it - sharp and witty" - Chortle), a co-creator of comedy anti-competition The Glang Show ("Joyful, wonderful fun" - The Guardian) and a believer in the true shape of our planet - a sort of pretzel-like affair. Sam blends autobiographical storytelling with magnificently offbeat comedy worldbuilding.
UFO is a show about space in an age of isolationism. It is a look at the vast nothingness of life, a journey to the moon, and an attempted live re-enactment of an alien abduction, cosmic vision of humanity's place in the universe, and a detailed description of string theory.
★★★★★ "Royally ridiculous, dangerously deranged... all praise to the pilot" Mumble
"A depth of oddity that's utterly unique" ★★★★★ - London Pub Theatres
★★★★★ - Remote Goat
★★★★ - The Mumble
★★★★ - Three Weeks
★★★★ - Broadway Baby
★★★★ – GiggleBeats
Finalist - Leicester Square Sketch Off! 2018
Winner - So You Think That's Funny? Best New Sketch Act
Rob Kemp – No Man's Land (WiP)
A work in progress show about straight male crossdressers, as I am one of them, and we are still mostly a punchline.
I saw a Mario-themed stag-do today. There were multiple Marios, Luigis, and Yoshis, but of course the stag was dressed as Princess Peach. And I wonder why that was.
What is meant to be inherently funny about a man dressed like a lady?
It's a status thing, isn't it?
Rob Kemp is the Edinburgh Fringe Best Newcomer nominated, multiple award-winning comedian behind smash hit show The Elvis Dead. He is usually found doing silly multimedia stuff, but on this occasion would like to tell you a personal story about himself.
'Twisted genius' **** (Sunday Times)
'Very funny' ***** (BeyondTheJoke.co.uk)
'Genius' **** (Fest)
Doors at 7.30pm - £8adv/£10 on the door
Tales of Whatever is a true storytelling show hosted by Mark Powell and Lee Moore. More info on our facebook page and at www.talesofwhatever.com
"Conversational, funny and inclusive" The Guardian
---
Venue
Shakespeare's Pub , 146-148 Gibraltar St , Sheffield