Tales of Whatever: Fake Cancelled Specialtacular
Nope, Nowhere Town
Wednesday, 29 Apr 2020, 12:30am - Thursday, 30 Apr 2020, 11:45pm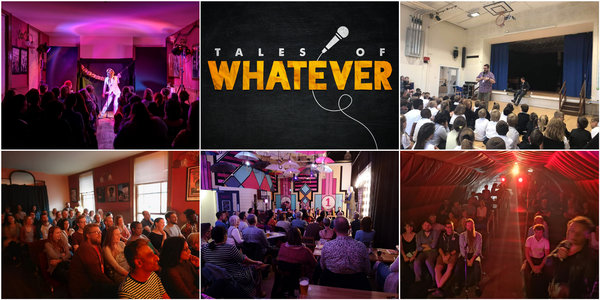 ---
Hi friends,
Like many others at the moment, Tales of Whatever is having to cancel some stuff. We totally understand that our audiences are in a really tricky position. We also hate to see our prebooked live acts losing out.
We want to keep supporting them to any extent we possibly can, and we're hoping our take on a voucher scheme might enable us do that. So here's the idea:
- From now to the end of April, we're selling ToW tickets for a *totally non existent* show, the Fake Cancelled Specialtacular.
- To be super clear, this extremely fictional event Will Not Actually Be A Thing. Once more, TOTALLY NOT A REAL SHOW. Ok cool.
- Instead, these tickets will basically be transferrable vouchers. Buy one, and you can use it for any other ToW show at our home venue in Sheffield. You can choose which one. We don't mind. They're all great!
- On May 1st, any income we've had from Fake Cancelled Specialtacular ticket sales will be used to pay cancellation fees to the acts we'd prebooked, but since had to turn away.
- There will be 150 of these Fake Cancelled Specialtacular voucher tickets available for now. That covers us for two sold-out Sheffield shows. If we happen to bring in more than we need for cancellation fees, any surplus will go to an organisation supporting other live performers (TBC, suggestions very welcome).
- If we end up having to cancel any more prebooked acts beyond the end of April, we'll most likely do a second run of these voucher tickets.
We know how hard performers work to make great shows, and how much our audiences value that work. We'd love to keep supporting the acts we book in some small way during this unstable period, however it pans out over the coming weeks.
If you'd like to help us do that, you can buy a Fake Cancelled Specialtacular ticket via the Tickets For Good link above. Then use it to come to an *actual* show later.
Thank you! We're hoping this might be an ok plan for helping support the acts we love. And we really look forward to seeing you at a live show soon.
Just not at the Fake Cancelled Specialtacular one, because again, it's...ah, you get it.
---
Venue
Nope , Not a Street , Nowhere Town