Arroz Gallery Launch - Ramen Yung: Horizons
Arroz Estudios, Lisbon
Monday, 18 May 2020, 6:00pm - Monday, 25 May 2020, 11:00pm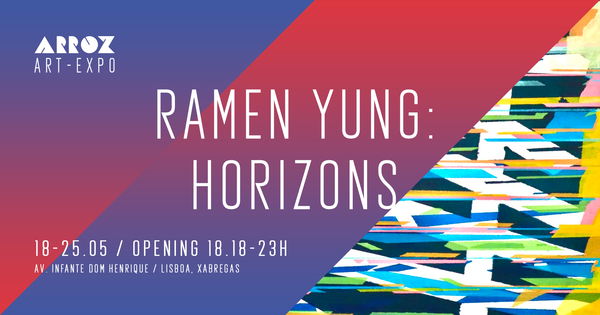 ---
As the quarantine eases we are following guidance from the authorities and DGS we are opening for events from the 18th of May with restrictions on sanitation and capacity. Link to more info: https://bit.ly/ArrozEventsUpdates
//
À medida que a quarentena diminui, seguimos as orientações das autoridades e da DGS, e estamos a abrir para eventos a partir de 18 de maio com restrições de saneamento e capacidade. + informações sobre como estamos a reabrir os estúdios: https://bit.ly/ArrozEventsUpdates
_______
ENG
Our first event of the re-opening - also the opening of our Gallery space - is the first Lisbon based exhibition by one of our residents Ramen Yung (aka Francesco Paulo Giunta).
Francesco is displaying an exhibition of canvas works and a series of 6m floor to ceiling installations in the warehouse.
We will be opening the exhibition to groups of 10. Tickets must be purchased in advance for a specific time. We ask that all attendees are diligent with hygiene, washing hands and using masks in confined spaces.
//
PT
O nosso primeiro evento – que é também a inauguração da nossa Galeria – é a primeira exibição em Lisboa do residente Ramen Yung (aka Francesco Paulo Giunta).
O Francesco vai exibir os seus trabalhos em tela e um conjunto de instalações de 6 metros, pé direito do armazém.
Vamos abrir a exibição a grupos de 10 pessoas. Os bilhetes devem ser adquiridos com antecedência para um horário específico. Pedimos a todos os visitantes que sejam diligentes com as práticas de higiene, lavando as mãos com frequência e corretamente e, usando máscara nos espaços que sejam fechados.
______________________________________
• ● ~ Artists / Artistas ~ ● •
Ramen Yung
ENG
Horizons appear on our skyline like distinct separations of elements - sky, earth and a border line. The closer we get to observing and deconstructing this portion of space, the more we realize that in between there are and endless number of spaces, solutions and shades, as described in one of Zeno's paradox's.
Through paint and the painting process this exhibition will create a reflection about those invisible spaces in between. This exhibition is to explore what is hidden between the borders, differences, opposites, distances, actions and horizons.
//
PT
Os horizontes aparecem na nossa linha do céu como distintas separações de elementos. Céu, terra e uma linha de fronteira. Quanto mais de perto observamos e desconstruímos esta porção de espaço, mais nos apercebemos que há um número infinito de espaços, soluções e sombras, tal como descrito num dos paradoxos de Zeno.
Através da pintura e do processo de pintura, a exposição criará uma reflexão sobre esses espaços invisíveis que se encontram no meio. O que há entre fronteiras, diferenças, opostos, distâncias, ações, horizontes. O ponto não é verificar o que existe, mas o que está oculto.
Sabe mais sobre o Francesco e sobre o seu trabalho aqui
@RamenYung - https://www.instagram.com/ramen_yung/?hl=en
https://artzine.com/francescopaologiunta
______________________________________
• ● ~ Entry / Entrada ~ ● •
Tickets:
Advance tickets - 5€ (includes a welcome drink)
______________________________________
• ● ~ Arroz Estúdios ~ ● •
Arroz Estúdios é um espaço em Beato, Lisboa. Com este espaço, queremos fornecer um ambiente de criação artística e liberdade de expressão.
--
Arroz Estúdios is a studio space based in Beato, Lisbon. We offer an environment for creatives to work and freely express themselves.
______________________________________
---
Venue
Arroz Estudios , 19-20 Rua d. Ginjal , Lisbon