Arroz Film: Casablanca
Arroz Estúdios, Lisboa
Wednesday, 25 Nov 2020
4:00pm to 9:30pm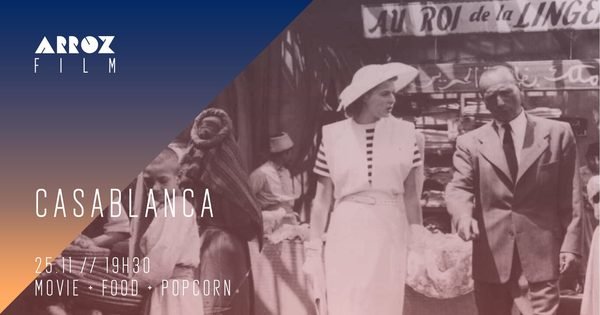 ---
Mais uma noite de filmes no Arroz Estúdios! Desta vez vamos exibir o aclamado filme Casablanca (1942).
Para quem nunca viu e para quem quer ver de novo.
Sinopse:
Durante a Segunda Guerra Mundial, muitos fugitivos tentavam escapar dos nazistas por uma rota que passava pela cidade de Casablanca. O exilado americano Rick Blaine (Humphrey Bogart) encontrou refúgio na cidade, dirigindo uma das principais casas noturnas da região. Clandestinamente, tentando despistar o Capitão Renault (Claude Rains), ele ajuda refugiados, possibilitando que eles fujam para os Estados Unidos. Quando um casal pede sua ajuda para deixar o país, ele reencontra uma grande paixão do passado, a bela Ilsa (Ingrid Bergman). Este amor vai encontrar uma nova vida e eles vão lutar para fugir juntos.
Duração: 1h42 min
Drama
Realizador: Michael Curtiz
//
(EN)
Let's have another film night! This time with Casablanca (1942).
Synopsis:
Casablanca is a 1942 American wartime romantic drama film directed by Michael Curtiz, and starring Humphrey Bogart, Ingrid Bergman, and Paul Henreid. Filmed and set during World War II, it focuses on an American expatriate who must choose between his love for a woman and helping her and her husband, a Czech resistance leader, escape from the Vichy-controlled city of Casablanca to continue his fight against the Germans.
Duration: 1'42''
Drama
Director: Michael Curtiz
»»»»»»»»»»»»
Bar opens at 16h.
Food from 18h
Film starts at 20h.
LINK: https://bit.ly/ArrozFilm See less
---
Venue
Arroz Estúdios , Av Infante Dom Henrique, AAFC , Lisboa