Gender Exploration Workshop
Online Zoom, N/A
Monday, 17 May 2021
7:30pm to 9:00pm
---
Tickets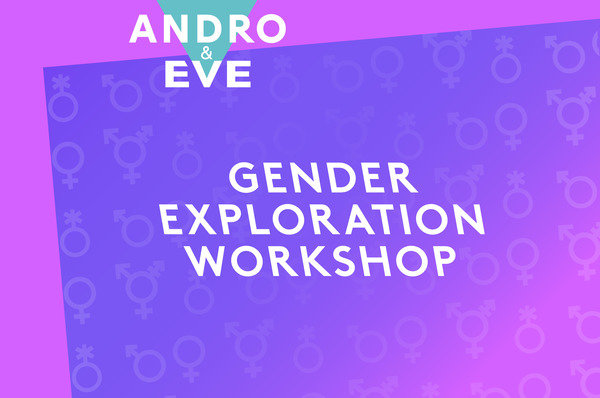 ---
Ages 18+ Part of the 2021 Festival of Debate.
This workshop will provide a space for those questioning or wanting to explore their own gender. Andro and Eve's Artistic Director Finn Warman will be joined by drag artist Christian Adore, to facilitate this creative and playful session.
Using conversations and creative exercises, this workshop will help participants reflect upon and be inspired by different ways to express gender in their own lives, rather than on stage. It is intended as a space for self reflection, understanding and connection for people of marginalised and diverse genders.*
*We understand that those wishing to attend may not yet have found a label that helps describe / identify their gender, or that they may not wish to use labels at all. We use the term 'marginalised' to describe anyone who feels that their gender expression or identity means they may face discrimination in society today.
This event will take place online via Zoom. Places are limited. A Zoom link will be emailed to you on the day of the event.
TICKET INFO:
Please note FREE places are also available for those in restrictive financial circumstance. Please contact hello@androandeve.com to request a free place. There is no need to explain your circumstances.
Find out more about our Sliding Scale Ticket and which level is appropriate for your financial circumstances here >
https://androandeve.com/updated-sliding-scale-tickets/
The SOLIDARITY TICKET allows us to continue to provide free tickets for refugees and cheaper tickets for those on low incomes. You can also add a contribution to this fund when buying your ticket. We're really grateful for any contributions you can give.
Our LOW INCOME tickets are for those who the following statements apply -
' I am unemployed or underemployed'
' I qualify for government / voluntary assistance; including food banks / benefits'
'I frequently stress about meeting basic needs, and don't always achieve them'
'I have no access to savings'.
Please note that refunds are not available for any tickets purchased. Tickets will be on sale until 12pm on the day of the event, unless they sell out before this.
ACCESSIBILITY
This session will not be captioned, but we will try and provide written instructions for activities in the group chat.
If you have any accessibility requirements, please let us know.
SAFER SPACES
Andro and Eve produce events where we hope our audience, artists, partners and volunteers can all respect and look out for each other and acknowledge our part as individuals in doing that.
Andro and Eve is compliant with the 2010 Equality Act recognising protected characteristics and seeking to provide spaces where those traditionally marginalised feel welcome and celebrated.
Andro and Eve recognises that there's no such thing as a truly safe space and that claiming to be one can create a false sense of security. However we feel it's important to have a set of guidelines in order to create a welcoming space.
By purchasing a ticket you agree to read and comply with Andro and Eve's safer space policy.
https://androandeve.com/safer-spaces-policy/
For more info and the full programme for The Festival of Debate visit here > https://www.festivalofdebate.com/
---
Venue
Online Zoom , Link sent prior to event , N/A