AMPHI CHILL – The Big Sheffield Vintage Brunch
Sheffield Amphitheatre, Sheffield
Sunday, 4 Jun 2017
10:00am to 5:00pm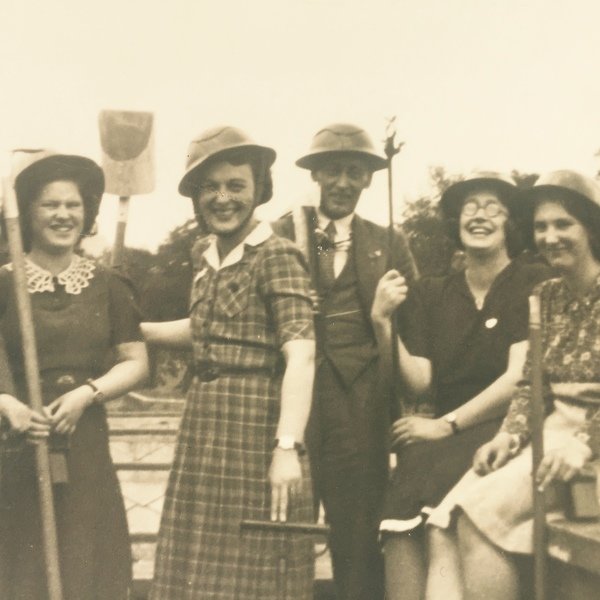 ---
Amphi Chill - The Big Sheffield Vintage Brunch will take place under a big top canvas marquee, set in the 1000 seater amphitheatre amidst the urban meadows of South Street Park, just behind the train station. Browse the Vintage Market with stalls full of period home wares and clothing brought to you by Sheffield Antiques Quarter, before sitting down to a delicious Dig For Victory meal; a Put Those Lights Out Brunch; a Very Vegan Ration Book Lunch; or a Ministry of Food Late, Late Lunch prepared by The Real Junk Food Project Sheffield.
You will be served in an 'All Clear!' area of the marquee in a wartime make-do-and-mend back garden, hidden amongst the washing lines and dolly tubs and surrounded by Dig For Victory potatoes and Grandad's home grown rhubarb. You'll sit at long shared trestles, street party style, and enjoy two top-notch, waste-not-want-not courses prepared by The Real Junk Food Project Sheffield, who save barrow loads of food from going to landfill and create incredibly imaginative and tasty dishes. This time think "Grandma's cooking with a twist." You'll be able to buy craft beer and summery Pimms from the Regather Co-op Bar or Brown Betty pots of steaming Rosie Lee and cake from the very refined Roaring Four-Teas.
Entry to Amphi Chill is free but tickets for the brunch must be booked in advance through Tickets For Good.
There will be 3 sittings of 60 people each. When the tickets are gone, they're gone so get out your food coupons and choose your sitting:
11am - Put Those Lights Out Brunch (2 courses for meat eaters or vegetarian option)
1pm - Very Vegan Ration Book Lunch (2 savoury vegan courses - No meat, dairy, eggs
3pm - Ministry of Food late, late, lunch. (2 savoury courses for meat eaters)
If you are meat free or dairy free please book the Vegan lunch at 1pm. or book a ticket at the Brunch choosing the vegetarian option.
In the spirit of thrift, sharing and preventing food waste there will be a Veg Dump where you can bring your surplus veg, either from your fridge, your garden or your allotment, which will be offered for sale on a 'Pay as You Feel' basis throughout the day. The proceeds of the surplus veg sales will be shared between The Real Junk Food Project Sheffield and Amphifest funds.
Russell's Bike Shed will be showcasing vintage bikes and leading a vintage bicycle tour through Sheaf Valley Park, Clay Woods and into Norfolk Park. Bring your vintage bike or pootle through the green spaces of Sheaf Valley in your old fashioned Sunday Best: think tweeds, twinsets and pearls on wheels.
If cycling style is not your thing we've got a luvverly bunch of coconuts! Take a shot on our Don't Be Shy Coconut Shy or admire classic emergency vehicles or talk revs and parkas with the Vespa and Lambretta guys and peek inside a VW camper.
'Befores and Afters' Guided Tours will take you through South Street Park (as it used to be) and into Park Hill (as it is now) Then sit back with a delectable vintage high tea or lick a Granelli's ice cream and watch a proper old fashioned dog show.
Come dressed in style – choose an era and get ready to time travel.
Please advise of any dietary requirements including any allergic reactions to the following: Celery, Cereals containing Gluten, Crustaceans, Eggs, Fish, Lupin, Milk, Molluscs,
Mustard, Nuts, Peanuts, Sesame Seeds, Soya, Sulphur Dioxide at least 3 days prior to the event. Email fosvpsheffield@gmail.com
TRJFPSheffield cannot guarantee food is cooked in a kitchen that is 100% free of nuts or gluten.
Full allergen food list for each dish will be provided at the event.
---
Venue
Sheffield Amphitheatre , South Street Park , Sheffield