The International 7, Dota2 Pubstomp Sponsored by MSI
Abbeydale Picture House, Sheffield
Saturday, 12 Aug 2017, 3:00pm - Sunday, 13 Aug 2017, 5:00am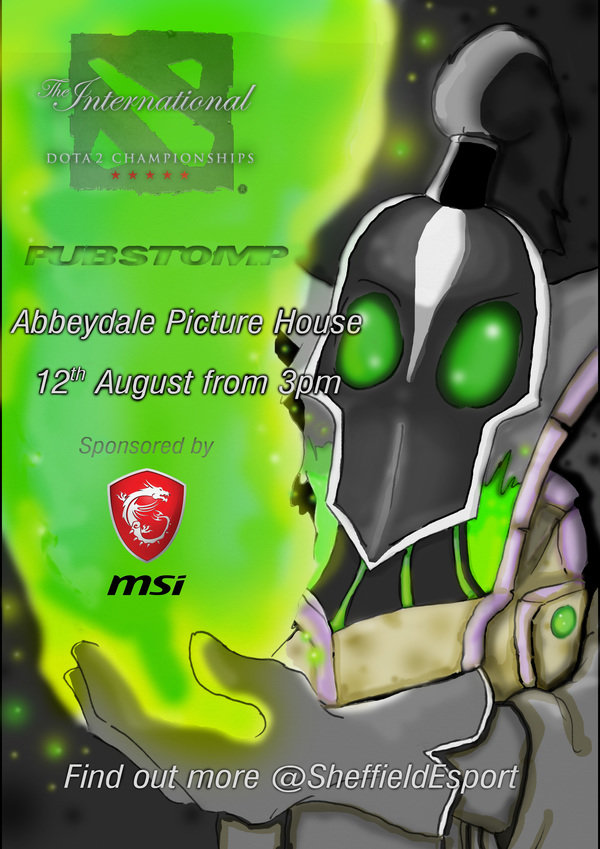 ---
SheffieldEsports are proud to host the first Pubstomp for Dota2 in Sheffield sponsored by MSI.
We will be screening the Finals day of The International 7. This will include the Semi Final (BO3) and the Final (BO5). Alongside the main stream we are working hard to provide extra activities in case you need any other entertainment. MSI have agreed to bring their product range to display and sell including the provision of a HTC Vive for you to try out, powered by one of their systems. There will also be a raffle with MSI providing the top prizes which will be announced shortly. There will also be other sales stalls set up showing off their products, (GeekStitch & Nebula Custom Gaming). We are hoping that there will be even more announcements coming soon so keep your eyes peeled!
All attendees can also make use of the local discounts that have been gathered, our friends at The Hop Hideout (Real Ale shop) will be providing 10% off any purchase on the day, and Pizza-Hut (neighbours to the venue) have also agreed to provide discounted Pizza for attendees. The Jury's Inn have offered a 10% discount to attendees for use in their hotel for the 12th August. A discount code will be sent out to the email address you registered when purchasing tickets. These rooms are subject to availability and must be ordered online with the promo code.
The venue operates a Bring your own.... for alcohol and food, so feel free to bring whatever you like to make the day as comfortable as possible for you. However because our friends are giving such great discounts within easily walking distance we would love you to make use of such great offers and give your legs a stretch.
Due to the event having a bring your own beer policy we have to ask that anyone under the age of 18 is accompanied by an adult. ID will be requested on entry for anyone bringing in any alcohol.
Doors for the event will open from between 2:30-4pm giving time for attendees to get to the event on the day and then also have some time in the venue to soak up the atmosphere and the build up provided on the stream before the lower bracket final starting around 4-5pm (Timings will be confirmed once announced).
Last entry to the event will be at 10pm, however if you have arrived and received a wristband you will be allowed to re-enter the event throughout.
The venue is wheelchair accessible for the main room and toilets, If you require a seat to be reserved for a disability then when booking a ticket please select the Wheelchair user product option. This will alert us to the need to reserve a seat in the venue for yourself and we will liaise with you from that point on to accommodate any need as best as we can, including the need for car parking.
Directions to the event:
Car Parking at the venue is reserved for trade and disabled access. There are many nearby streets (Wake road, Wath Road, Woodstock Road, Empire Road, Tavistock Road) which have no parking restrictions and are less than a minute from the venue, search for postcode S7 1HD and this will bring you to the heart of these roads.
If travelling by train, travel to Sheffield station, then taxi to the venue "Abbeydale Picture House" rough cost £6-£7. To keep things cheaper a short walk from the train station (7mins) is Sheffield High street, aim for Halifax, Natwest and Sports Direct from there, there are many bus stands there where you can get on numbers 75,76,86,97,98 and ask for "Abbeydale Picture House", there is a bus stop outside the venue, this costs roughly (£1.5-£2).
We look forward to seeing you at the event and if you have any questions please contact us through this event page, or on twitter using @sheffieldesport, why not give us a follow whilst you are there. Also please invite all your friends, as that's what this is about watching the best Dota2 in the world with your best friends.
Links:
The Hosts :
SheffieldEsports - www.twitter.com/SheffieldEsport
The Venue:
Abbeydale Picture House - www.abbeydalepicturehouse.com , www.twitter.com/abbeydale_ph
Main Sponsor :
MSI - https://uk.msi.com/
Partners :
The Hop Hideout - www.hophideout.co.uk/shop-home
PizzaHut - www.pizzahut.co.uk
Jury's Inn Hotel - www.jurysinns.com/hotels/sheffield
Sales Stalls :
GeekStitch - www.geekstitch.co.uk/browse/genre/video-games
Nebula Gaming - www.nebulagaming.co.uk
---
Venue
Abbeydale Picture House , 387 Abbeydale Road , Sheffield