Diversity Fest
Hagglers Corner, Sheffield
Sunday, 8 Oct 2017
1:00pm to 9:00pm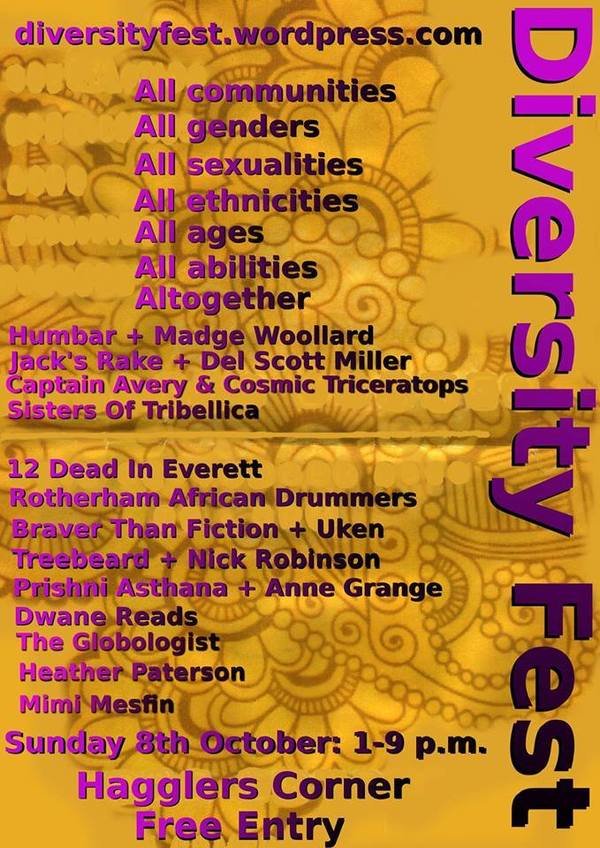 ---
'm delighted to confirm that the date for our third free Diversity Fest at Hagglers Corner is Sunday, the 8th of October 2017: 1-9 p.m.
It's our free celebration for people of every gender, sexuality, ethnicity, age and ability.
A statement of unity and mutual respect between Sheffield's many communities.
Diversity Fest is a free, unfunded community festival and all performers and organisers are unpaid volunteers.
We recieve no external funding and run the entire festival on a budget of only £150 which we raise by fundraising events.
For all enquiries please email Trevor Tomlin: dhtgohj@yahoo.co.uk
Our PA will once again be provided by Chris "Treebeard" McMahon!
https://diversityfest.wordpress.com/
Here's what we did last year:
https://www.facebook.com/timdennell/media_set?set=a.10154051310833924&type=3
https://www.facebook.com/events/569699623205552/
---
Venue
Hagglers Corner , 586 Queens Rd , Sheffield