go back For Murder
Drama Studio, University of Sheffield, Sheffield
Wednesday, 20 Sep 2017, 7:15pm - Sunday, 24 Sep 2017, 11:30pm
---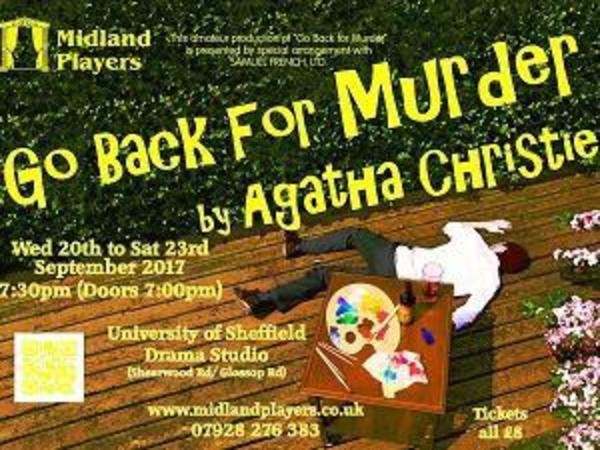 Go Back For Murder takes intrigue, subterfuge, passion and misdirection to a terrible and chilling conclusion.
Midland Players return to the University of Sheffield Drama Studio this September with 'Go Back for Murder', Agatha Christie's stage adaptation of her novel 'Five Little Pigs'. The stage version sees Carla Crale with solicitor Justin Fogg (who takes the Poirot role from the novel) seeking the truth behind her mother's conviction for the murder of her father 16 years earlier.
A letter from beyond the grave proclaims her mother's innocence, but if she wasn't the killer, who was? Can Carla's passionate fight to clear her mother's name convince the five other people present on the day of her father's death to go back 16 years? To recreate events and examine memories warped by time, prejudice, and, possibly, deliberate misdirection so that the crime may be solved afresh?
An unusual take on the traditional murder mystery, the action of the play slips seamlessly from past to present. Set both in the early 30s and late 40s the play oozes classic style with fantastic period costumes, hair and make-up and provides an excellent warm-up for the new, big screen version of 'Murder on the Orient Express' this autumn.
"A subtle and ingenious detective story, an elegiac love story and a masterful example of storytelling technique, with five separate accounts of one devastating event. Christie's greatest achievement." - John Curran, The Guardian on Five Little Pigs
"Demonstrates the author's uncanny skill. The answer to the riddle is brilliant." - Maurice Willson Disher, The Times
Suspects, secrets and suspense are abound in this intriguing murder mystery, so don't miss this fantastic show. Performs 20-23 September 2017, 7.30pm at University of Sheffield Drama Studio, all tickets £8, available from www.midlandplayers.co.uk, via tickets@midlandplayers.co.uk or on 07928276383.
Midland Players have been active in Sheffield for over 40 years, developing a reputation for high quality theatre worthy of the professional stage. We perform two plays each year in the University of Sheffield's Drama Studio, plus other 'projects' in smaller venues. Our members come from across South Yorkshire and are encouraged to get involved with all aspects of production, including set design, sound and lighting, stage management and directing, as well as acting.
www.midlandplayers.co.uk
---
Venue
Drama Studio, University of Sheffield , Shearwood Road , Sheffield