Theatre Deli Opening Weekend
Theatre Deli, Sheffield
Friday, 20 Oct 2017, 7:15pm - Saturday, 21 Oct 2017, 10:45pm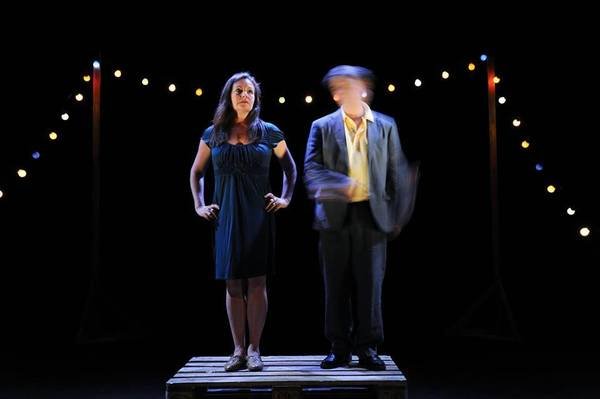 ---
IT'S ONLY THEATRE DELI SHEFFIELD'S OPENING WEEKENDER?!
After spending the summer packing up the Old Woolworths we're opening our brand-spanking new digs on 202 Eyre Street - and BOY do we have a treat for you!
We're beyond excited to announce the FIRST ever show to grace our stage at Eyre Street will be the awe inspiring Forced Entertainment! To kick start the party we have 'Tomorrow's Parties', to start the party of all parties and celebrate our new space.
----------
Tomorrow's Parties:
Sheffield based international innovators Forced Entertainment present a compelling performance that imagines a multitude of hypothetical futures. Tomorrow's Parties is a playful, poignant and at times delirious look forwards to futures both possible and impossible. On a stage framed by colored fairground lights, this seemingly minimal performance soon reveals itself as a low-fi theatrical explosion. From utopian and dystopian visions, science fiction scenarios, political nightmares and absurd fantasies, Forced Entertainment deliver a thought-provoking survey of hopes and fears as they speculate about what the future might bring.
Since forming the company in 1984, the six core members of Forced Entertainment have sustained a unique artistic partnership, confirming time and again their position as trailblazers in contemporary theatre. Their trademark collaborative devising process has made them pioneers of British avant-garde theatre and earned them an international reputation.
"Unbearably sad yet absurdly optimistic ★★★★" GUARDIAN
"A brilliant and compelling theatre performance" LA LIBERTE
"Theatre in its purest form, storytelling which creates vivid images. Is it avant-garde? In any case it is
enchanting." FRANKFURTER RUNDSCHAU
"After steel, Forced Entertainment is the second best export from the British city of Sheffield. Hilarity,
understatement and striking observation are in the DNA of the group." DE STANDARD
"Razor-sharp accuracy and wit." DIG YORKSHIRE
"Exquisitely crafter, humorous yet never facile, Tomorrow's Parties haunts the thoughts: outstanding."
THE HERALD
---
Venue
Theatre Deli , 17 The Moor , Sheffield