Re-inventing Eco/Affordable Community Housing; A cross-sector call to action.
St Mary's Conference Centre, Sheffield
Thursday, 15 Mar 2018
9:00am to 5:00pm
---
Tickets
Early Bird Public Sector

£110.00

£100.00 + £10.00 fee

Early Bird Small SocEnt/3rd Sector (Under £100k turnover)

£27.50

£25.00 + £2.50 fee

Early Bird Large SocEnt /3rd Sector

£55.00

£50.00 + £5.00 fee

Early Bird Private Sector

£27.50

£25.00 + £2.50 fee
---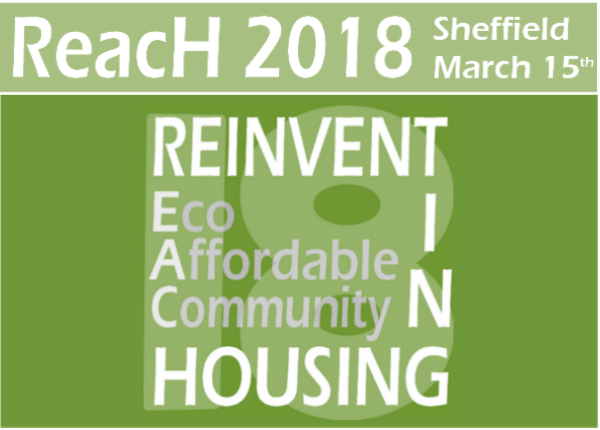 HOUSING IN CRISIS
We know this from the myriad reports coming from everyone, from the Chartered Institute of Housing to Shelter to the Government itself... But the affordable end of the market is even more critically affected.
AFFORDABILITY
Only 41,530 'affordable' homes were completed in year to March 2016 - 50% down on 2015 and the lowest for 24 years (DCLG).
SUSTAINABILITY
Since the axing of the Code for Sustainable Homes and the Zero Carbon Hub there is no imperative on developers to include any low-impact features in housing, and again the lower end of the market is particularly excluded.
 
This Conference will look at the reasons why we are failing so badly to address the issues, learn about some solutions which will contribute to:
'Fixing our Broken Housing Market'
Put out a call to implement immediate and meaningful change in the provision, specification and accessibility of truly affordable low-impact homes.
Re-ignite the national debate on affordable, sustainable housing and the availability and specification, through planning, of renewables and energy-saving methods.
Join us to celebrate the SME response so far, examining projects such as ChaCo Leeds, Wikihouse, Black Country Make and REACH Homes, and see why the small-is-better approach will work!
OUR SPEAKERS
Rt Hon John Healey, Shadow Housing Minister
Lord Bob Kerslake, (Peabody Trust)
Alison Inman (Pres, CIH)
Geraldine Dening (ASH)
Tom Murtha (SHOUT)
Jasper Thompson (Help Bristol Homeless)
Tony Stacey OBE (SYHA)
John Montague (Big Issue Invest)
Jonny Butcher (Renters Rising)
Mark Norbury (CEO, UnLtd)
Dr Paul Chatterton (Lilac, Future Cities)
Louise Cannon, (UnLtd, Building Communities)
WHO SHOULD ATTEND?
- Local and National policymakers in affordable housing and renewable energy
- Social Enterprises, Sheffield City region + neighbouring areas
- Community Led Housing Groups
- Housing Associations- Business Development Officers and Sustainability Officers
- Council – Planners
- RSLs
- Developers
- Social Investment Financiers
- University- Urban Planning, Architecture
FULL EVENT PROGRAMME COMING SOON...
---
Venue
St Mary's Conference Centre , Bramall Lane , Sheffield