Give it a Crack - January
Union St, Sheffield
Saturday, 20 Jan 2018
11:00am to 1:00pm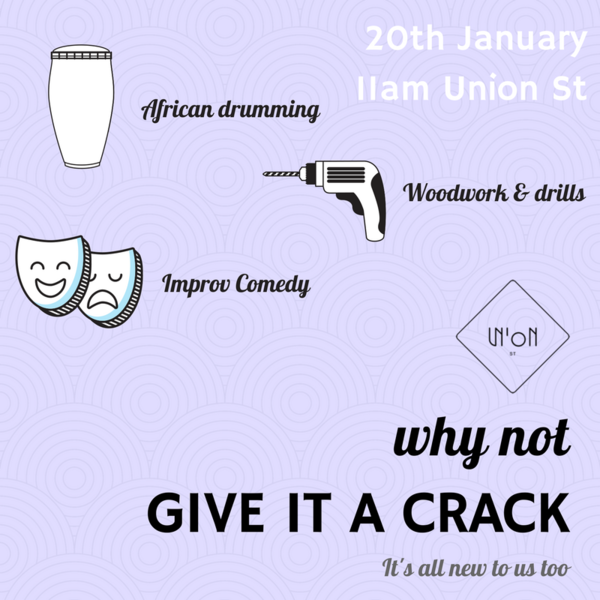 ---
Why not Give it a Crack - It's all new to us too!
This event is for people who have always wanted to try these activities but have never got the chance or been too nervous of joining an established group. These workshops are for begineers (if you're not a beginner - this is not the event for you and if you come just to show off - you will be given a hard stare, Paddington Bear style).
The event starts at 11am with welcome hot drinks & snacks (included in ticket price) and time to chat and discuss future Give it a Crack activities we'd like to try.
The workshops will start at 11.30am and will last between 1.5 to 2 hours.
We will then make our way to a local watering hole (Rutland Arms) for drinks and food - this section of the event is optional, but all are welcome.
Workshop details:
Ground floor - African Drumming
First floor - Wood work & drills
2nd floor - Improv Comedy
On Saturday 20 January, 11:00am you'll get the chance to pick up a new hobby and a new friend at Give it a Crack. The morning starts with coffee and pastries and ends with the acquisition of a new skill – all for just £10.
African Drumming
11:30am-1:00pm
£10
The walls of the Union St cafe will resound with the beautiful rhythms of the West African djembe drum. It is one of the most versatile percussion instruments on the planet due to its wide range of pitches, so it is a great way to take up a musical passion. The workshop will be led by Steve Rivers, director of Sheffield based drumming company Unbeatable Energy. He has spent the last 20 years introducing rookies to the instrument, taking beginners on a step-by-step guide from drumming incompetence to funky drum beat confidence. Steve promises that by the end of the session "you'll be grooving and moving to the beats!"
Comedy Improv
11:30am-1:00pm
£10
Did you know, you can learn to be funny? All it takes is a bit of quick thinking and confidence. As the name suggests, Comedy Improv is a workshop where you will learn to create hilarious moments just by utilising what is at the forefront of your mind. You'll be working collaboratively too, allowing you to make new friends whilst testing out your sense of humour. Bobby Anderson will oversee proceedings. Bobby runs Stürike Comedy's improv troupe and is co-host of the monthly Sheffield Improv Jam. 2018 marks his 10th year doing improv, and his 10th year trying to talk about anything other than how amazing improv is. The workshop will be quite active, so comfortable clothing is recommended.
Working with Wood
11:30am-1:00pm
£10
Kisha of Bright Box believes in bringing science, technology, engineering and maths to socially excluded communities. And she's bringing drills and handsaws to Union St's One Space to offer woodwork novices the chance to make something from scratch. Kisha brings the wood, screws, nails and upcycled bits and bobs, and you're invited to bring your imagination to craft whatever you fancy. However, if you do need a helping hand, Kisha also has instructions on how to build a birdhouse. Every participant will leave with something, and hopefully the skills to use drills and handsaws at home.
After drumming, improvising and hammering is finished, participants are invited to The Rutland Arms for further socialising, food and drinks.
---
Venue
Union St , 18-20 Union Street , Sheffield