Give it a Crack - February
Union St, Sheffield
Saturday, 17 Feb 2018
12:30pm to 3:00pm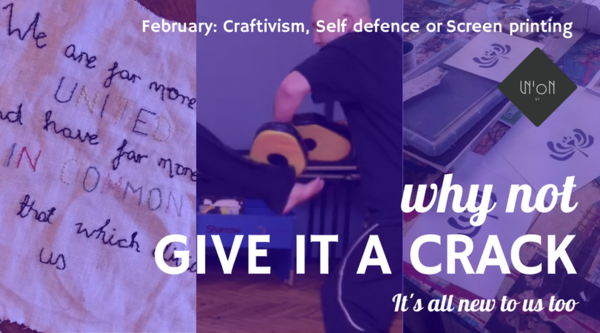 ---
Our second instalment of Give it a Crack is here with 3 new exciting things to try. All sessions are aimed at beginners. Join us at 12.30pm grab a coffee and tell us what you'd like to see at the next 'Give it a Crack'.
Craftivism (1pm - 2.30pm)
Intro Self Defence (1pm - 2.30pm)
DIY Screen Printing (1pm - 3pm)
Craftivism: Craft + Activism = Craftivism. The aim is very much to focus on sending positive messages out in to the world and challenging injustices in a loving and kind way. The session would focus on making a mini positive protest banner that people could take away with them to leave in a public space or to keep for themselves.
Intro to Self Defence: Ever wondered what happens in a self defence class? One for absolute beginners? Well its not so scary, in fact it is both great fun and incredibly interesting.
Come along and meet Jayne Wharf and Garry Smith of the Academy of Self Defence and you will learn some highly effective techniques in a very short time. Whilst our hierarchy of responses to a violent threat is avoidance first, escape next and de-escalation if the first 2 are not possible, you also need to know what to do if the brown stuff hits the oscillating blades.
DIY Screen Printing: An introduction and exploration of home print making. Most people are under the illusion that screen printing requires specialist equipment, and spending a lot of time and money to get good results. However, this not the case. This course can give people the confidence and skills to do their own simple print making projects at home.
At 3pm we'll be heading to a local watering hole to continue the socialising if you'd like to join us.
**Please note that all of the workshops will be up at least one flight of stairs on the first or second floor. We are hoping to get our lift fixed as soon as possible and apologise for the barrier that this may create for some people.**
FAQ
Start time - join us at 12.30pm, grab a coffee from Motore Cafe, meet your fellow "crackers" and tell us your ideas for the next Give it a Crack event.
If you have any questions or concerns about the workshops please get in contact with rachel@union-st.org
---
Venue
Union St , 18-20 Union Street , Sheffield