The Kingdom Come #3
Walkley Community Centre, Sheffield
Saturday, 10 Mar 2018
7:30pm to 10:30pm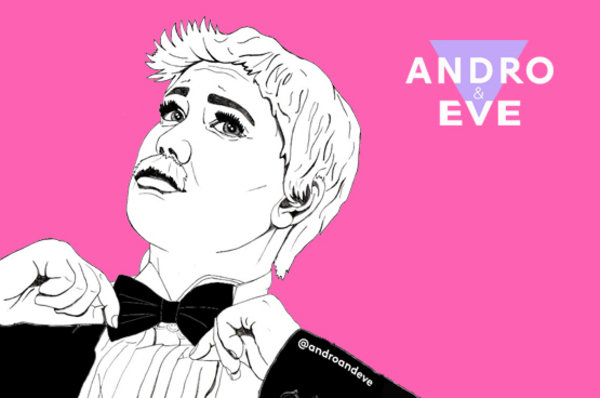 ---
Andro and Eve's drag king cabaret returns, showcasing some of the UK's finest drag king acts, as part of the She Fest 2018 celebrations.
Luke Warm is back in Sheffield to host the night, with Siggi Moonlight, Zayn Phallic, Joey Bambino and Richard Von Wild all taking to the stage! Andro & Eve will be transforming Walkley Community Centre into one glitzy cabaret venue, where all are welcome. With cake on sale and cash bar, everyone is encouraged to drag up and find heaven really is a place on earth.
DOORS - 7.30PM / SHOW - 8.30PM
Discounted tickets available for those on low incomes. See below.
Please note - our accessible tickets are for those with low incomes, and for who the following statements apply -
' I am unemployed or underemployed'
' I qualify for government / voluntary assistance; including food banks / benefits'
'I frequently stress about meeting basic needs, and don't always achieve them'
'I have no access to savings'.
If you can afford to pay more than £4.50 for a ticket but not £13, please add a contribution. This allows us to continue to provide accessible tickets for future events. Thank you.
FAQs -
IS THIS A WHEELCHAIR ACCESSIBLE VENUE? Yes. With disabled toilet. Please do e-mail us if you have any specific access requirements when booking your ticket.
DO I NEED TO PRINT MY TICKET? No. Your name will be added to the guest list which we'll check on the door.
CAN I BRING MY CHILD / TEENAGER? Sorry no. While we know drag is popular with all generations, currently The Kingdom Come is for 18+ only owing to the show's content and licensing.
For more information see
www.androandeve.com
---
Venue
Walkley Community Centre , 7a Fir Street , Sheffield