Why Not Give it a Crack - March
Union St, Sheffield
Saturday, 17 Mar 2018
11:15am to 1:30pm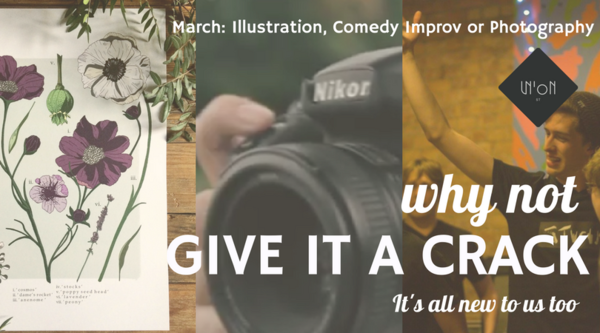 ---
For our third instalment of Give it a Crack we have 3 new exciting things to try, including a return from the popular January workshop of Comedy Improv. All sessions are aimed at beginners. Join us at 11.15am grab a coffee in our cafe and tell us what you'd like to see at the next 'Give it a Crack'.
Photography (11.30am - 1pm)
Botanical illustration (11.30am - 1pm SOLD OUT) & (2pm - 3.30pm)
Improv Comedy (11.30am - 1.30pm)
Photography - Everyone's always asking me 'How do I use my camera' many people just put there camera on Auto, they don't know any more advanced settings. Bring along your own camera & after this workshop attendees will learn all about, Manual setting, Aperture and ISO and how they all work together to create eye catching imagery. And at the beginning we will go through composition, and the rule of thirds. Nelly Naylor is the founder of Same Sex Wedding Photography, has been running her own photography business for 3 years and has a First BA Hons in Photography.
Botanical Illustration - A life drawing style workshop with botanical subjects, to learn to look at things differently/in more detail. The session will start off with some quicker drawing activities to warm up your hands, and then will be fairly unstructured to give everyone freedom to spend time to create something they're proud of! All materials will be provided. Fun for complete beginners to more experienced drawers who struggle to find time to draw. Grace Taylor runs Wildwood Paper, offering bespoke Wedding Stationery.
Improv Comedy - Did you know, you can learn to be funny? All it takes is a bit of quick thinking and confidence. As the name suggests, Comedy Improv is a workshop where you will learn to create hilarious moments just by utilising what is at the forefront of your mind. You'll be working collaboratively too, allowing you to make new friends whilst testing out your sense of humour. Bobby Anderson will oversee proceedings. Bobby runs Stürike Comedy's improv troupe and is co-host of the monthly Sheffield Improv Jam. 2018 marks his 10th year doing improv, and his 10th year trying to talk about anything other than how amazing improv is. The workshop will be quite active, so comfortable clothing is recommended.
---
Venue
Union St , 18-20 Union Street , Sheffield