Mapping for Social and Political Change
Space4, London
Wednesday, 28 Mar 2018
6:30pm to 9:00pm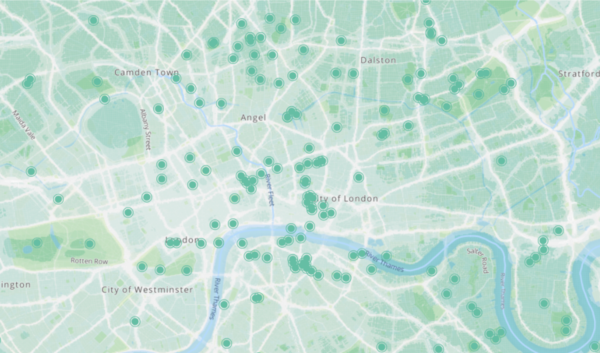 ---
During this event you will hear from people who are creating a whole range of data-driven maps that impact on our world. These projects are collating data about the environment, land ownership, community resources and campaigns, patterns of corruption, access to water and sanitation, and more. We'll discuss why data is useful and educational for campaigns. We'll examine how these maps are having an effect on people and projects. We'll also be showcasing different types of maps - some geographical and others conceptual. Short talks will be followed by an opportunity to debate the issues and network. Talks from:

- Drew Mackie is a specialist in developing social network maps. He is working with David Wilcox, Matt Scott and other civic activists in developing Network City London, which aims to use civic mapping and network building to create a fairer and more inclusive Smart City.
- Barbara Brayshay and Nicolas Fonty will talk about their project justMap, which is an ongoing collaborative map of London community resources, campaigns and projects. Its goal is to highlight communities resources and projects, to connect actors campaigning for a fairer London and to identify strategic cooperations. http://justplace-london.blogspot.co.uk/
- Simon Counsell is Executive Director of Rainforests UK. Simon will be discussing the work that Rainforest Foundation UK is doing to map forest communities' land tenure and governance systems in order to promote forest communities' rights to land and forest resources. http://www.rainforestfoundationuk.org/
- Joaquim D'Souza, Senior Developer at Outlandish, will give an overview of some of the mapping projects that Outlandish (co-operative digital agency) have made, including schoolcuts.org.uk, washdata.org and pngicentral.org.
- Alberto Calzada is a Data Scientist and Ben Warren is an Air Quality Consultant. They work for Tranquil City, a project which maps data about noise and pollution against user-generated images of tranquil spaces in London, to give people an opportunity to experience pleasant parts of the city.
- Maria Alonso and Louise Francis from Mapping for Change will discuss Community Maps, a highly flexible platform enabling users to decide and define the type of information they want to collect, share and disseminate through the creation of bespoke maps, is used as a tool in engagement processes. Community Maps has been built from research and experience working in and with communities across the public and voluntary sectors in various countries and contexts. The technology has facilitated engagement projects ranging from sustainability (Air Quality Monitoring map), social justice (Mapping the Pathway to Equality), community development (Road to Wellbeing) or citizen science.
---
Venue
Space4 , 149 Fonthill Roas , London