Make the World Great Again Crowdacting Festival 2018
De Ceuvel, Amsterdam
Saturday, 26 May 2018, 2:00pm - Sunday, 27 May 2018, 2:00am
---
Tickets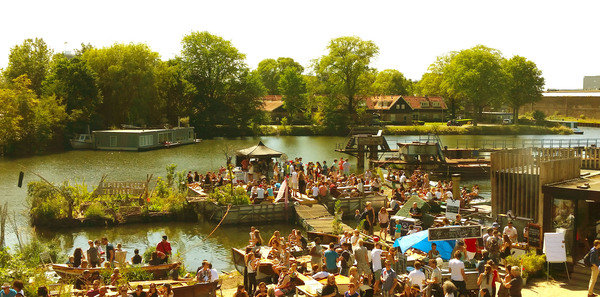 ---
Op 26 mei organiseren CollAction & de Ceuvel het Make The World Great Again Festival 2018. Hier zetten we door middel van crowdacts onze goede voornemens om in positieve actie. Overstappen van bank of energieleverancier, je inschrijven voor vrijwilligerswerk, een buurtintiatief starten voor gedeelde zonnepanelen... en zo hebben we nog veel meer toffe initiatieven waarmee we de wereld een beetje beter hopen te maken.
Hoe gaan we dat doen? We toveren de steiger van de Ceuvel voor een dag om tot transformatietunnel. In de boten zetten we allerlei acties op touw, zodat wanneer jij de steiger afrolt jij je gecommitteerd hebt aan een reeks crowdacts, waarmee jouw transformatie compleet is.
De workshops die gegeven worden door onze partners, sociale ondernemingen en NGO's, zijn ingedeeld in verschillende thema's, zoals Make Food Great Again, Make Energy Great again, en Make Your Career Great Again. Daarnaast zijn er sprekers en organiseren we allerlei andere activiteiten.
Daarnaast zorgen we ook voor een extralekker muzikaal programma met bands, DJ's en muzikanten, zodat je na het crowdacten in de zon kan dansen met een drankje. Kom samen met ons positieve verandering mogelijk maken. Power tot he crowd!
--------------------------------------------------------------------------------------------------------------------------------
Make The World Great Again wordt georganiseerd samen door CollAction & De Ceuvel.
CollAction is het eerste crowdactingplaform ter wereld. Wij helpen on- en offline bij het starten van en deelnemen aan crowdacting campagnes. Een crowdacting campagne probeert een collectief probleem op te lossen door voorwaardelijk commitment te vragen. Bijvoorbeeld "Ik beloof om naar een duurzame bank te switchen / een maand geen vlees te eten / een zomer lang geen vliegreis te maken, als een X aantal mensen dat ook doen."
→ www.collaction.org
De Ceuvel is een duurzame broedplaats voor creatieve en sociale ondernemers op een voormalige scheepswerf in Amsterdam-Noord. De broedplaats is een trekpleister voor idealisten en groene denkers. Op het terrein vind je een duurzaam & biologisch Café-Restaurant, een eigen groentekas, een biogasinstallatie voor organisch afval en zonnepanelen. Daarnaast is de broedplaats bijna volledig gebouwd van restmaterialen. Ook organiseert De Ceuvel een uitgebreid cultureel programma met een focus op duurzaamheid.
→ www.deceuvel.nl
/ / / / / / / / / / / / / / / / / / / / / / / / / / / / / / / / / / / /
ENGLISH:
On the 26th of May, CollAction and de Ceuvel organize Make The World Great Again Festival 2018. At the festival we turn our good intentions into positive action with the help of crowdacts. Change your bank or energysupplier, commit to volunteerwork, start a neighborhood initiative for shared solar panels, and we have a lot more nice initiatives like that in store for you.
How will we accomplish this? We will transform the jetty of de Ceuvel for a day, to the transformation-tunnel. In the boats we will have all kinds of activities, so that when you leave the jetty your transformation will be complete.
The workshops, which will be given by our partners, social enterprises and NGO's, are divided in themes, like Make Food Great Again, Make Energy Great Again and Make Your Career Great Again. Next to that, there will be speakers and other cool activities will be organized.
Of course we will have a sweet musical program too, with bands, DJ's and musicians, so that after all that crowdacting you can dance in the sun with a drink. Come join us, to make positive change possible. Power to the crowd!
--------------------------------------------------------------------------------------------------------------------------------
Make The World Great Again is organised by CollAction & Café De Ceuvel
CollAction is the first crowdactingplatform in the world. We help on- and offline with starting and participating in crowdacting campaigns. A crowdacting campaign tries to solve a collective problem by asking conditional commitment. For example: "I promise to switch to a sustainable bank / don't eat meat for a month / don't fly for a whole summer; if an X amount of people do the same."
---> www.collaction.org
De Ceuvel is a sustainable breeding ground for creative and social entrepreneurs on a former shipyard in Amsterdam-Noord. The breeding ground is an attraction for idealists and green thinkers. On the terrain you'll find a sustainable and organic Bar-Restaurant, our own greenhouse, a biogas installation for organic waste and solar panels. Next to that, the breeding ground is almost entirely constructed out of residual materials. De Ceuvel also organises an extensive cultural program with a focus on sustainability.
----> www.deceuvel.nl
---
Venue
De Ceuvel , Korte Papaverweg 2 , Amsterdam