Volunteering Fair - stall booking for organisations
Sheffield Town Hall, Sheffield
Tuesday, 5 Mar 2019
10:00am to 4:00pm
---
Tickets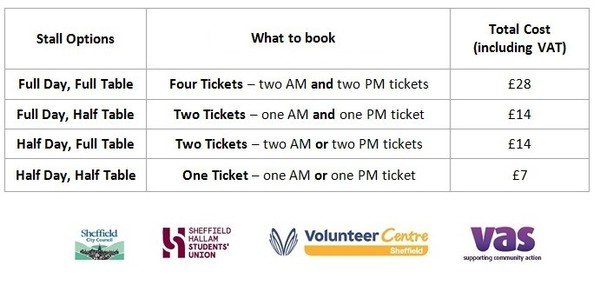 ---
*** THERE ARE ONLY HALF AND FULL STALLS AVAILABLE FOR 1-4PM (PM TICKETS). IF YOU ARE NOT ABLE TO BOOK ONLINE, USING A CREDIT/DEBIT CARD, PLEASE EMAIL A.ANYIKA@VAS.ORG.UK ABOUT PAYING BY INVOICE ***
Our Volunteering Fair will be held on Tuesday 5th March from 10am-4pm, in the Reception Rooms at the Town Hall, which are on the first floor and wheelchair accessible with lift access. Here is a map - https://goo.gl/maps/7i1mGmMFduQ2
Our event at the Town Hall, in October 2017, had over 500 visitors and 64 charities on the day looking for volunteers. Our Volunteering Fair in March 2018 was snowed off, but we're back again this Spring for a bigger and better event.
The Volunteering Fair will be a great way for you to recruit volunteers, and is free for visitors and open for everyone to attend. The Students' Union will be publicising the event, and The Volunteer Centre and VAS will also be advertising the fair to make sure a wide range of people attend.
From 3-3:30pm we will be having Quiet Time for visitors, so please keep this in mind when making your booking. There is more information about Quiet Time in the event details at the end of this page.
You can book a table or half table for the full day, for 10am-1pm (AM option) or for 1-4pm (PM option). Options and prices are shown in the event details below. If you are not able to book using Tickets For Good, please contact us using the email address below.
If you are carrying over this booking from last year's March event, please contact us at a.anyika@vas.org.uk. If you need any more details, or have a problem booking, please also contact us.
Stalls are available on a first come, first served basis.
Booking deadline: Friday 15th February
Very best wishes
Amala Anyika
Volunteering Co-ordinator
Sheffield Volunteer Centre
_____________________________________________________________________________________________________
EVENT DETAILS
Stalls
Stalls (full tables) are 6ft wide. As many people are sharing, each charity can bring one banner or pop-up stand as well as anything else for their table. Please could you also bring your own tablecloth for your stall, if possible.
Stall Options
Please book the following number of tickets, depending on the kind of stall you would like at the event:
FULL TABLE, FULL DAY (10am-4pm) - Book 4 tickets - 2x AM tickets AND 2x PM tickets - £28 in total
FULL TABLE, HALF DAY (10am-1pm or 1-4pm) - Book 2 tickets - 2x AM tickets OR 2x PM tickets - £14 in total
HALF TABLE, FULL DAY (10am-4pm) - Book 2 tickets - 1x AM ticket AND 1x PM ticket - £14 in total
HALF TABLE, HALF DAY (10am-1pm or 1-4pm) - Book 1 ticket - 1x AM ticket OR 1x PM ticket - £7 in total
Social Media
We will be posting information on the fair, and charities, through our Facebook and Twitter pages. We would be grateful if you could repost or share these through your sites. The links are below:
Facebook Event Page - http://bit.ly/VolFair2019
Twitter - https://twitter.com/VolunteerSheff
Event times
You can arrive to set-up your stall from 8:30am on the morning of the Volunteering Fair. There will be a briefing at 9:30am, so please have your stall set up by this time.
If you book a stall for a half day from 10am-1pm (AM), could you please start packing up your items 10 minutes before you are due to leave to make sure we can swap over as quickly as possible. We will have staff and volunteers that will be able to help you with this, if needed. Just ask.
If you book a stall for half a day from 1-4pm (PM), could you please arrive 10 minutes early. Also, could you make sure you are able to stay until 4pm so visitors aren't disappointed if they arrive later in the day. Please also be aware that quieter time will take place from 3-3:30pm, if you are booking a stall for the afternoon. There is more information on quieter time below.
Quieter Time from 3pm – 3.30pm
The Volunteering Fair is an event for all members of the public and we aim to make the event as accessible as possible. Quieter time has been planned with people who are on the autistic spectrum in mind. During this time anyone who feels they would benefit from a quieter experience is welcome, we will not turn anyone away but we will promote that this is a quiet time.
Creating a quieter time at such a big event is a challenge so we appreciate your cooperation. During this time we will turn off the music, use natural light where possible and have a sign on the door to let people know that this is now a quiet time. We will also ask organisations not to leave the fair or pack away during this time to reduce noise and disruption.
Internet Access
Free wifi access will be available at the venue, and we can provide login details on the day.
Electronic Equipment
If you have let us know that you will be bringing electrical equipment, such as a laptop, please let us know after you make your booking. We will try to place you near a plug socket, if needed.
If you are bringing electrical equipment, these will need to be PAT (Portable Appliance Tested) and certified beforehand. If this has already been done, there should be a sticker on the plug or on the back of the equipment. The PAT test is valid for 12 months from the 'date passed' date. This PAT certification is only needed is you will be plugging in your electrical equipment at the venue.
Refreshments for Charities
Tea, coffee and biscuits will be available for charity staff and volunteers helping at the fair. These are available in very limited numbers, so this will be limited to two servings per charity.
Food and Drink
Due to Town Hall policies, it isn't possible to consume or serve food that you bring to the event yourself. If you are staying for the full day and are having lunch, the Winter Gardens and Peace Gardens are close by. Hopefully we'll have nice weather! There are plenty of cafes and supermarkets close to the Town Hall as well.
Parking
There is a Q Park on Charles Street, and the Town Hall offer 50% discount vouchers. They can be collected from main reception upon arrival at the Town Hall. Find more information about Q Park is here - https://www.q-park.co.uk/parking/sheffield/q-park-charles-street
Invoices
If you are not able to book your stall through Tickets For Good, you can be invoiced instead. Please contact me at a.anyika@vas.org.uk for more details.
---
Venue
Sheffield Town Hall , Pinstone Street , Sheffield