Lets Go 2 Hogwarts! - EXPERIENCE HOGWARTS' MAGIC
Sheffield Coach Station, Sheffield
Sunday, 7 Apr 2019
7:00am to 7:15pm
---
Tickets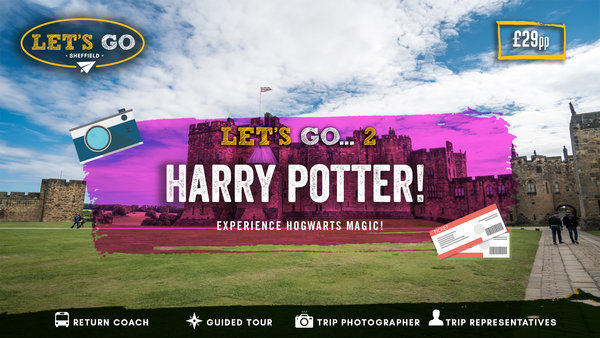 ---
💠 LETS GO SHEFFIELD 💠
Lets Go Sheffield is your #1 provider of international events, activities and trips in Sheffield. We support thousands of Internationals right here in the heart of Sheffield by putting on weekly events that are packed with entertainment!
🔶WEEKDAYS - Check out Facebook page for events, activities, meet ups, MORE FREE STUFF & Offers/discounts/money off promotions!!
🔶THURSDAYS - International Hang out - Join us weekly for quizzes, FREE 🍕, Games, Ice breakers and much much more. We won't charge you a penny.. EVER! 😁
🔶FRIDAYS - Bar crawls & International parties! We love to bring the worldwide culture to Sheffield. Join us at our Bi Weekly event in House of Hugo for 196 International parties or come along to one of our highly popular themed bar crawls that leave you wanting more!
🔶SATURDAYS & SUNDAYS - Grab the essentials, were going on a journey! Every weekend we take you to a different destination across the UK. Bringing you the best experiences joined by like minded individuals for you to get the most out of your time abroad! Well arrange everything, dont worry about a thing! Just DONT forget your 📷
'Life is either a daring adventure or nothing at all' - Helen Keller
'You only live once, but if you do it right, once is enough!' - Mae West
🚌🗺️⛰️🏛️📸
🔹DURHAM / ANGEL OF THE NORTH / NEWCASTLE 🔹
We will visit Durham (guided tour included), Durham Cathedral (entry included), the Angel of the North and the amazing city of Newcastle.
🔹Harry Potter tour at Durham with entry into Durham Cathedral 🔹
Durham Cathedral's ancient cloisters doubled as a film location for Hogwarts in Harry Potter and the Philosopher's Stone back in 2001. Against a snowy backdrop, the cloisters became the snow-covered quadrangle where Harry magically releases Hedwig the owl from his hands.
Harry and friends returned to Durham's UNESCO World Heritage Site the following year for the Chamber of Secrets sequel, with the breath-taking building once again providing the setting for Harry, Ron and Hermione being taught how to turn animals into water goblets. Relive the scenes with a visit to this majestic building in one of England's most cultural cities. And don't miss the chance to spend part of your cultural holiday at the adjacent Durham Castle, constructed in 1072 on instruction by William the Conqueror.
🔹 Angel of the North 🔹
Since spreading its wings in February 1998, Antony Gormley's The Angel of the North has become one of the most talked about pieces of public art ever produced. It is believed to be the largest angel sculpture in the world. It is one of the most viewed pieces of art in the world - seen by more than one person every second, 90,000 every day or 33 million every year
🔹Alnwick Castle 🔹
Best known for its starring role as Hogwarts School of Witchcraft and Wizardry in the first two Harry Potter films, Alnwick Castle has made many appearances in film and television over the years.
It is the second largest inhabited castle in the country; home to the Duke of Northumberland's family, the Percys, for over 700 years. Combining magnificent medieval architecture with sumptuous Italianate State Rooms, Alnwick Castle is one of the UK's most significant heritage destinations and best days out in Northumberland.
🔹TRIP INFO 🔹
DESTINATION: Durham Castle, Angle of the North, Newcastle
WHEN: Saturday 07.04.2019, meeting at 7.15 am (bus leaves at 7.30am)
MEETING POINT: Sheffield Coach station, Bay E3
🔹WHO CAN JOIN?🔹
All students from University of Sheffield & Hallam. Language students, Au pair, exchange students, friends, housemates & anybody you want to bring along with you!
♦️PRICE♦️
General Admission: £29.00
Discounted entry - Please contact your society president/Building manager or message your local rep for money off & FREE trips!
🔹WHATS INCLUDED IN THE PRICE!🔹
- Free itinerary (Details of times and locations for the day)
- Transportation by private executive coach! (Movies included)
- Guided private tour by professional tour guides telling you the most important info!
- Lets Go representative throughout the trip
- Free time in the afternoon to explore the city on your own or with friends!
- Skilled trip photographer
- All taxes included!
🔹THE TIMETABLE 🔹
7.15 am: Meeting in Sheffield
7.30 am: Leaving Sheffield
After: Free time at Alnwick Castle
After: Photo stop at Angel of the North
After: Guided tour of Durham, entry into Harry Potter Cathedral
5.30 pm: Leaving Durham
📷 Connect 📷
◆ Facebook: https://www.facebook.com/Lets-Go-Sheffield-516760875410135/
◆ Instagram: @letsgosheffield
💷 Jobs 💷
Get paid to travel!
Get paid to party!
Join our EPIC staff parties!
Exclusive discounts for your friends!
Be the life of the party!
Message your local rep for more details:
Toby (WhatsApp): 07411078013
Facebook: https://www.facebook.com/toby.henriquespresson.9
📲CONTACT 📲
Lets Go Sheffield
📧Info@letsgo-uk.com
📞 07411078013
---
Venue
Sheffield Coach Station , Archway Centre, Pond Square , Sheffield